Tue, August 21, 2012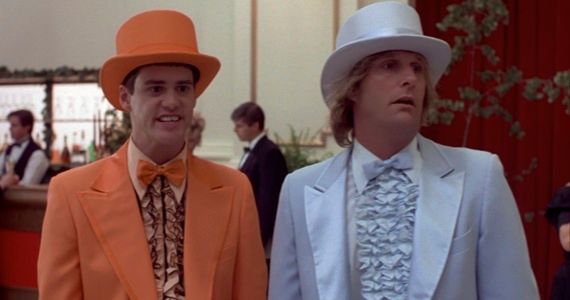 A few weeks back I wrote of the 'back-on-track' status of the sequel to the 1990s hit comedy, Dumb & Dumber, with the original film's directors and writers, The Farrelly Bros. returning along with stars Jim Carrey (again) and Jeff Daniels. Today, we have details of what type of adventure Harry & Lloyd will get themselves into this time, a good 20 years after the first film.
Speaking to Digital Spy, Bobby Farrelly had this to say in regards to the plot of the film:
"I can tell you that there is no growth out of either one of them and it's 20 years later... these guys are in regular life and they're still basically children at heart. The story revolves around the fact that one of them may have sired a child. They want to go and find the child because he's having a kidney problem and he wants to ask him for one of his kidneys."
I'm not gonna lie, that plot sounds pretty stupid but hey, the film is a sequel Dumb & Dumber, so it's not like intelligence is needed here. Not to mention, who would have thought a film about two guys driving cross-country to return a breifcase would have been a huge hit?
Anyway, at least we still get to see the two going on a road trip again. Maybe they'll run into that sorry cop for old times sake? Time will tell.
The film is expected to start shooting next Spring.
Source: Digital Spy