Thu, June 9, 2011
In an all new TMT weekly column I'll be compiling hilarious and entertaining top 10 lists. In the very first edition I give you the Top 10 Losing Their Shit Performances. It was tough trying to compile the top ten with a separate actor for each slot, seeing as Nic Cage could have easily filled the entire 10 with any number of his bat shit crazy performances. Surprisingly though I was actually able to find nine other shit losing performance that toppped the all time nut job.
Top 10 Losing Their Shit Performances
10. Nicolas cage in The Wicker Man. In almost all of his films Cage at one point or another completely loses his shit and goes completely crazy. With Wicker Man, you could almost argue that happened when he signed on to star. The all out losing his shit Nic Cage that we all know and love didn't let his true colors fly until about the final act in the film, unless you count punching and dropkicking women or stealing bikes at gun point. It's not until he's confronted by a group of women who attack him with bees, yes little black and yellow bees, that he completely loses his shit.
9. Jack Nicholson in The Shining. It's arguably one of the best performances of his career, but also a performance where he no doubt completely lost his shit. The greatest part of the film for me and the reason he made our list, is the scene where jack recited the little pigs and the big bad wolf while axing a bathroom door to shit, in an attempt to kill his terrified wife. I know it shouldn`t be funny, but try watching the clip and not laughing.
8. Anthony Hopkins in Silence of the Lambs. It's not that Hopkins performance was outrageous or over the top like some of the other performances that made the cut, but he no doubt still lost his shit. What was crazy and even chillingly scary about his performance though, was that he was able to completely lose his shit without ever raising his voice or getting too excited. His best line in the film was when he tells Jodie Foster that he ate someone's liver with some fava beans and Chianti.
7. Robert De Niro in Cape Fear. It was either this or Taxi Driver, but ultimately I think Bobby went a little crazier and a little more over the top in Cape Fear. You really can't help but laugh with that lovable lunatic in the movie theatre scene either. He's obnoxious and ridiculous, but clearly out of his damn mind as well.
6. Vincent D'Onofrio in Full Metal Jacket. After being nicknamed Private Pile and asked ridiculous rhetorical questions by his Drill Sergeant, it's really no surprise at all that he lost his shit; "do you suck dicks Private…Bullshit, you could suck a golf ball through a garden hose!"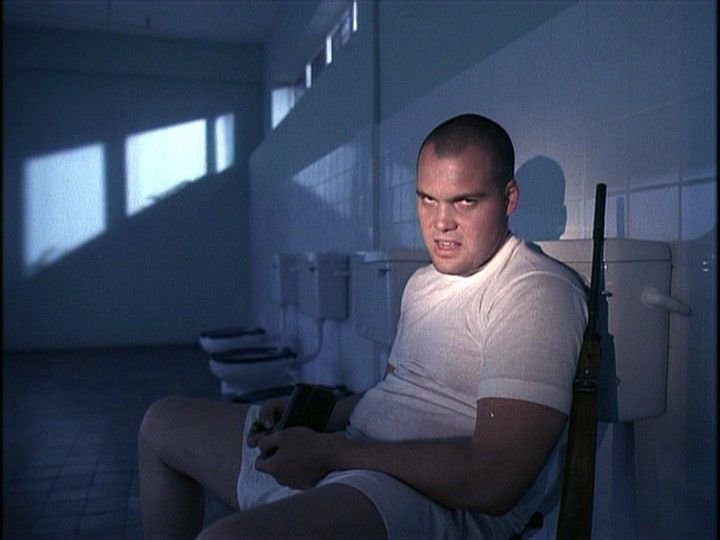 Note:The fuckers on youtube weren't able to provide a video that could be embedded so go Here.
5. Christopher Walken in King of New York. Shooting a man I don't even know how many times and then saying you should thank me, solidifies Walkens position on the list. Similar to Nic Cage, Walken tends to lose his shit in just about everything he's in, he's only been doing it a lot longer.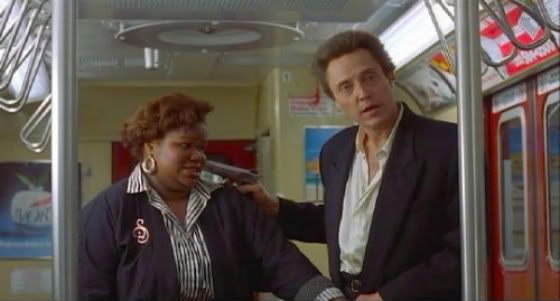 Note:Once again those cunt scabs on youtube wouldn't provide a video so go Here.
4. Christian Bale in American Psycho. This very well could be the be all end all of losing their shit performances. No one has ever played crazy quite like Bale did in American Psycho. He goes from brutally murdering someone in his apartment, to confessing to his friends only to find out he imagined the entire event.
3. Arnold Schwarzenegger in Total Recall.I'm not even sure I need to reference any specific scene he went ape shit in, but if I had to name one, it would be him in the chair fighting to get out. That was classic and hilarious Schwarzenegger losing his shit.
2. Leonardo DiCaprio in The Aviator. Although his performance was based on a bat shit crazy person, he did such an amazing job there was no way we couldn't have him on the list. He goes from reasonable and sane to completely nuts and losing his shit for half the movie.
1. Michael Douglas in Falling Down. If shooting up a McDonalds at 10:31am because they're no longer serving breakfast wasn't enough, just watch the rest of the film. Douglas loses his shit through the entire duration of the movie. Not only is this an awesome and gripping movie, it's also kind of fun and hilarious to watch someone go as bat shit crazy as he does.