Fri, September 18, 2009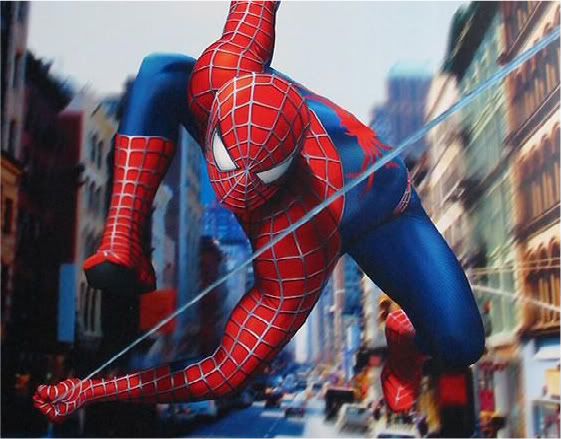 In spite of having a cold, it is time for yet another round of 'memo to the executives' where I try to pitch the best direction to take the film franchises of today, tomorrow and yesteryear…..
….and boy have I been dreading this one, but it has to be done. I've been dreading it because, unlike X-Men where I'm still energised enough to think it can be saved, Spider-man 3 screwed up that series and left such a bad taste in my mouth, that just trying to discuss any hope for a fourth outing literally saps the energy from me. Yet I cannot take the easy way out and pitch a reboot this time. We are getting a Spider-man 4 whether we like it or not and I have to try and figure out what I would like to see that could excite me again.
Which in itself is such a hard task as the entire team is returning, and despite the fact that they have been hiring new, and very talented writers, and that Sam Raimi is still a great director, Tobey 'I just don't care anymore' Maguire will be back, Kirsten 'he should have a spider baby with MJ' Dunst will be back, and I keep hearing these rumours that Uncle Ben will be back, as will Uncle Ben's killer, and both Osborns will probably be haunting Peter Parker in large mirrors.
It has to stop; following the formula of the first two films to the letter would have made Spider-man 3 a poor film even if they hadn't screwed up the symbiote saga so much. I was so bored of seeing CGI Spidey swinging through the city to that goddamn theme music again and again. They could have shaved 30 minutes minimum from the third film if they didn't feel the need to bring back every single supporting character. Spider-man 4 is going to have change a hell of a lot to convert the fans who have turned their backs on the series.
And I don't think most of the changes would be that hard to implement. Let's start from the beginning. Each of the three films has begun with an impressive title sequence quickly retelling the story of the previous film for the benefit of the two people in the audience who haven't seen it. The problem this time is that people don't want to be reminded of Spider-man 3 or anything that happened in it. The tone needs to be set from the start that changes have been made, in the right direction. The film needs to start with a bang and not the "look how great my life is/oh shit these pizzas are gonna be late" kind of bang. Spider-man 4 needs to start immediately after the logos with Spidey in an action sequence, in the grand tradition of James Bond. There are so many villains in the Spidey Universe that are not interesting enough to carry a full motion picture by themselves. What better way to use them, to almost instantly re-convert the disillusioned fans, and to get the general audience hooked and in sync with the film than to have them act as an opening sequence villain; Scorpion, Rhino, Mysterio, Chameleon, Shocker, Prowler, Hobgoblin, Vulture, the list is endless.
The scenes of Spidey swinging through New York need a drastic overhaul (or a new special effects crew at least). If we are to get a kinetic rush as our hero does his thing, we need to at least partially believe that the character is actually interacting with the environment. Parts of Spider-man 2 succeeded at that brilliantly, the train sequence in particular. It would be so great if they could shoot real stuntmen swinging in blue screen and integrate them with live action plates of the city. It doesn't matter if Spidey isn't doing as spectacular a jump or swing as he can when computer generated; the audience will actually feel a rush.
Get new theme music; I'm sick to death of Danny Elfman's theme. It isn't that it's not a good piece of music but it has been used in the series now to the point of overkill. Getting a completely fresh composer and fresh theme will help tremendously to make the fourth film………erm, fresh.
Don't bring back every single character. Mary Jane and Aunt May can't just vanish without a word but everyone else can leave without anyone missing them. Though if Aunt May is going to be in the next one, make it count. Integrate her into the plot, make her a driving force. There is, of course, one major piece of character development left for her to go through and that is to discover that Peter is Spider-man. There is one particular moment in J. Michael Straczynski's comic run where Aunt May comes into Peter's room to find him collapsed on his bed, still wearing his costume which Marvel President Kevin Feige has sworn to put on the big screen in a future film. I guess now is as good a time as any.
Remember how Spider-man 2 was about Spider-man no more? Well the fourth film needs to be about Peter Parker no more. I would like to see a story where Peter, desperate to atone for his actions in the third film, actually sacrifices one half of his double life in order to be Spider-man 24/7. He is commitment to his responsibility. He's terrified of letting the city down again. He has left school, he's quit the Bugle, and say 80% of the time we see the character on screen, he's in the suit. He doesn't sleep without it. He barely sleeps at all and he has moved out of that shitty apartment and back in with Aunt May. You get rid of that landlord and his dorky daughter and you integrate Aunt May into the story. Surprise the audience and have her discover Peter is Spider-man early in the film. Have her confess it to Peter about halfway through and have them deal with it together. Just give her something to do.
MJ on the other hand, is hampered with the problem that I (and I assume you as well) cannot possibly fathom why she and Peter would still be in a relationship. So answer that problem for all our sakes and separate them. They still care for one another but Peter has committed himself to his Spider-man persona and MJ just does not fit in with that plan anymore. They have reconciled, she will keep his secret and she will still protect him but no more than that. A decision which will have tragic consequences.
I know it's cliché to kill her off but, who are we kidding, it's the death scene everybody wants and there is no reason that it can't be done well. Rather than have her kidnapped (AGAIN) and die at the hands of a loony villain like a Green Goblin, do something different, which brings us to our villain.
We have been told that Spider-man 4's villain will have close ties to the city of New York and many have been wishfully thinking that this could mean the Kingpin. Apart from the fact that this is not possible due to the character being retained by 20th Century Fox for the moment, I think that's the right way to go. Rather than giving us a lead villain with a funky suit and power, as isolated and on his own as Spidey, give us a bad guy with real power, real muscle (both literally and metaphorically), and an army at his command. For once, make the odds against Spidey seem insurmountable. For once (and this is really important) don't feel the need to have a villain who has a close connection to Peter Parker and finds out his identity at the end of the film. Don't have a villain who is totally psychologically justified in his actions; give us an evil, ruthless shit. Transfer the personality and status of Kingpin to another character. Either create a brand new Kingpin of crime just for the film or use a character from the comics like Hammerhead, the mafia hood whose head contained a massive steel plate.
Imagine a villain who literally controls all crime in New York but is smart enough to personally regulate his operation so things don't get out of his control. His men are unswervingly loyal and he has portions of the police and state in collusion to ensure what crime there is, can go off without a hitch in return for whatever favours he can grant them. Spider-man is potentially a huge problem to this otherwise immaculate operation as a do-gooder with no agenda other than to protect the people of the city and see justice done. Our Kingpin will try to convert Spidey to his way of thinking of course. After all, he can provide money, he can supply information on his competition, and he can buy off the press that criticise him such as the Daily Bugle. Spidey won't accept of course and thus our villain begins a smear campaign and brings the law down on our hero (a plot device which was thrown into the first film but seemed like an underbaked afterthought). For one thing, much good as he has done, Spider-man has now been indirectly involved with the murders of both Norman Osborn and his son, something which could be easily twisted to make the public believe he is an unhinged sociopath (not to mention his activities whilst in the black costume - none of which will have been explained to the people or the police).
A premise such as this gives us the opportunity to see set pieces such as a massive city wide police pursuit of Spidey through the alleys and rooftops with every member of New York's finest on his tail, an enemy he must evade but cannot fight. After all, Spidey can dodge tentacles and sand but try evading guns and helicopters, lots of them. Imagine Mary Jane being arrested for her association with Spider-man, interrogated by crooked cops, tortured by Hammerhead's, and all through it showing her devotion to Peter and not giving them anything they want to know; a decision which naturally costs her life. Such a final act might even endear her to the fans when all is said and done (though just like Rachael Dawes, they'll really just be glad she's dead). Imagine after all this high action, spectacle and drama, at the end of the day Spidey comes home, drained and unable to fend for himself any longer, where his Aunt May is ready to protect him until he can regain is strength.
And since they already did a complete 180% reversal on Peter's love life with MJ coming first and Gwen Stacy after her, I see no reason why Gwen shouldn't become the Black Cat (queue reader groaning). She may be one character too many for this story but since we are talking about a plot with a lot of underworld crime and where Peter is Spider-man all of the time, she makes a perfect fit; a woman that Spidey can be with and not give up his commitment to Uncle Ben.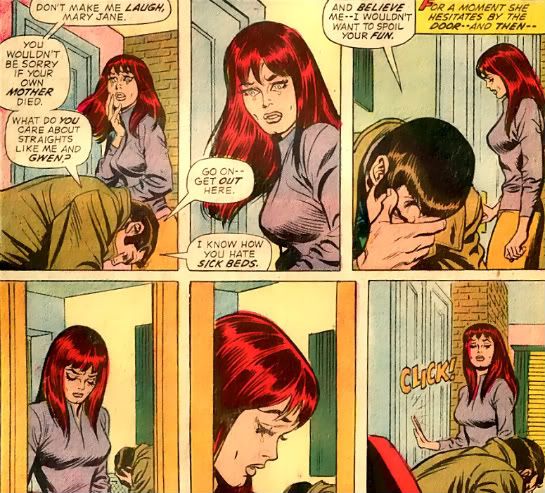 I would also love to see (though the positions would be reversed), my personal favourite moment in Spider-man comics brought to the screen. Occurring on the last page of issue 122 where Norman Osborn's Green Goblin pays the price for murdering Gwen Stacey by being killed himself, Mary Jane tells a distraught Peter how sorry she is about Gwen's death and is verbally assaulted with Parker assuming that she doesn't really give a damn and is too busy being her usual care free party girl self. With tears in her eyes, Mary Jane closes the door she was about to leave through and stays to be by Peter's side, thus beginning the relationship that will define them both. It would be great to see Gwen in that place at the end of Spider-man 4, standing over a distraught Peter who mourns Mary Jane's death and being rebuked by him for faking that she cares. As Peter yells, Gwen (who has been living her own double life as Black Cat) realises that he is Spider-man and, no matter how harsh his words, does not leave the room. She stays, now a rock for Peter in both of the lives he leads.
So that is enough rambling for another week. Hopefully you agree that at least one small idea in this piece has the potential to breath life into this horse which, if not already dead, really is on life support right now. And the great thing is, this time next year we should know enough about the film to see if I guessed right about any of it.
Till then.............EXCELSIOR!