Thu, October 14, 2010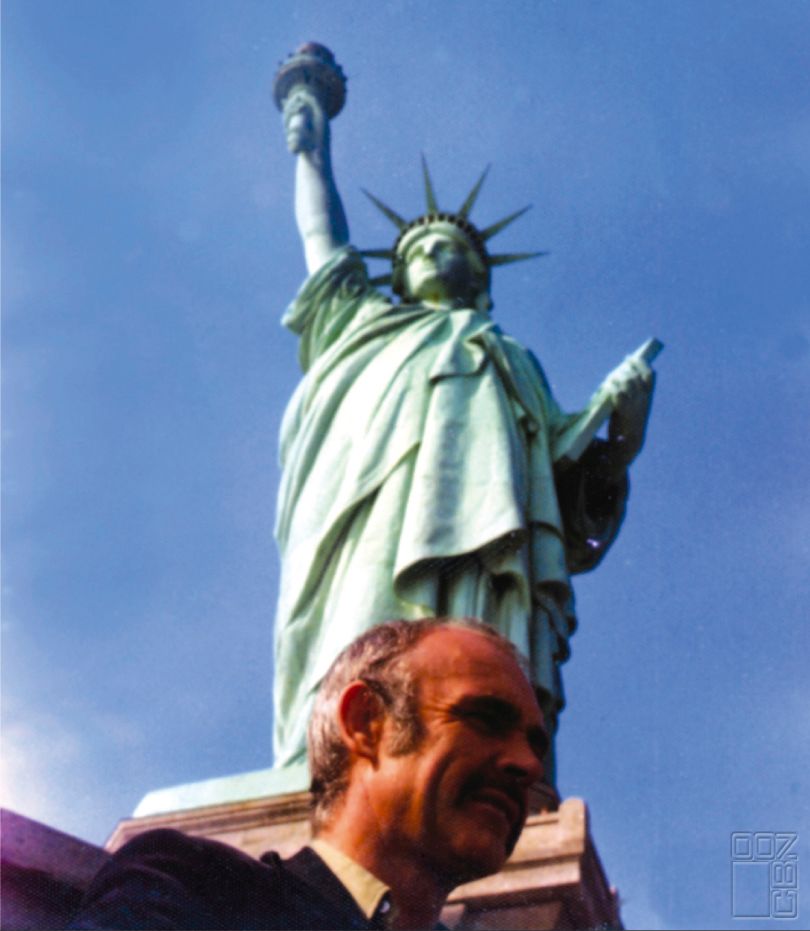 If I were to explain the full background behind 'Warhead', the infamous unofficial James Bond film that never was and yet eventually became 'Never Say Never Again', this website would crash from the sheer amount of text that would fill the screen.......but I'll try for the cliff notes version.
Essentially, a producer named Kevin McClory was determined, even as far back as the 1950's to make a film that nobody had seen before; a lavish epic which would showcase both the lush beauty of the Bahamas and provide thrilling underwater action photography. Ian Fleming's literary creation of James Bond seemed tailor made for the idea and so the two joined forces to craft the first Bond film screenplay, 'Thunderball'. After the film was initially unable to get off the ground, Fleming rather foolishly took the finished screenplay and turned it into his next Bond novel without the permission or consent of McClory, leading to a plethora of legal battles which dogged the fate of the character on screen for the next four decades as the producers of the official James Bond film series persistently fought off McClory's attempts to create not only a rival Bond film but maybe a whole series as well. Right in the middle of this was 'Warhead'.
In some ways 'Warhead' was just intended to be a remake of 1965's 'Thunderball' (which McClory co-produced with legendary Bond producers Albert R Broccoli and Harry Saltzman). In other ways 'Warhead' was intended to be the Bond film to end all Bond films, an action adventure epic which outdid even the underwater spectacle of 'Thunderball' and brought about the triumphant return of the one and only Sean Connery to the role. There is no doubt that McClory's intent was to make a film that left the official series in the dust and ensure the mass audience would never return to a Roger Moore entry.
The reason it is so interesting to look at the 142 page first draft of 'Warhead' dated September 1978 from the perspective of time is not just because of the film that was never made but also because of the film that it eventually became; 1983's 'Never Say Never Again'. As you may be aware, a rival Bond film starring Sean Connery was released in the same year as an official Roger Moore entry and yet the latter actually made more money overall, the official Bond series did not fizzle away into oblivion and he we are anxiously awaiting the fate of the 23rd installment starring (God willing) Daniel Craig. Clearly, McClory's finished film was not the knock-out punch he intended. Was the finished film dramatically different from the original script? Was McClory's vision hampered by legal or economic constraints? Is 'Warhead' the film that should have been made?
Well having read it and as much as I might like to say otherwise, 'Warhead' (bar a gloriously insane third act) is a film best left unmade.
The script's very first page sets the tone perfectly; an almost blank page with nothing but the words 'pre-title sequence - to be written'. Now to be fair, a great many of the official Bond films probably had the very same page in their first drafts as the filmmakers would research all manner of incredible concepts that could start the latest film with a bang (not to mention outdo the previous movie) and often not make their decision until well into production. As such, 'Warhead's first scene involves a sea plane travelling through the Bermuda Triangle and being the unfortunate victim of a gigantic, but mobile, underwater city called Aquapolis, which rises out of the sea and essentially sits on the aircraft to capture it, one of many which have suffered the same fate. I know what you're thinking. You've seen something like that in a Bond film before.
Bond history tells us that production of the 10th official film, 'The Spy Who Loved Me' was almost halted because of its striking similarities to McClory's script (even though that film was released in 1977 and the first draft of 'Warhead' is dated 1978). Essentially, the only similarity is that the villain in both pieces lives in an elaborate underwater lair, is obsessed with the ocean and intends to use nuclear weapons to deter the rest of humanity from further harming it. This is a major issue to be sure but none of 'Spy's set pieces, locations, actual plot or charm and good dialogue are to be found in 'Warhead'. The edge it does have over 'Spy' is in the triumphant return of arch enemy Ernst Stavros Blofeld and the SPECTRE organization.
As a passionate Bond fan, I was truly hoping that this would be the grand epic finale of the Bond vs. Blofeld storyline which ran across the Connery films. Though Brocoli and Saltzman always made sure to make their films as satisfying as possible for an audience and deliver on expectations, the only time I feel they really failed was when it most mattered; at the climax of that storyline in the official series.
Though out of continuity with the Fleming books, SPECTRE is first mentioned in 'Dr. No' by the title character as the organization he works for and thus setting up its prominence throughout the rest of the series. SPECTRE chief Blofeld is seen (or rather unseen) subsequently in both 'From Russia With Love' and 'Thunderball' as the grand architect of a chess game in which Bond is merely a nuisance and a pawn, and world domination is the goal. In 'You Only Live Twice', Bond finally comes to face to face with Blofeld in all his scarred, cat stroking glory. Blofeld escapes only to confront Bond again in 'On Her Majesty's Secret Service' where the criminal mastermind makes sure that our hero pays a price for his interference by murdering Bond's wife Tracy.
Heading into the next installment, 'Diamonds Are Forever', the audience was amped up for the potential of a revenge crazed Bond tearing down the remnants of SPECTRE in order to pay back Blofeld. After the spectacle of underwater battles, ski chases and volcano lairs, we expected the biggest set piece in Bond history. Nothing less would do for the final battle between Bond and Blofeld. Instead, we got a piddling skirmish on an oil rig involving some truly awful special effects (helicopters blow up not with pyrotechnics or models but with the explosion painted over the vehicle) and an ambiguous fate for the SPECTRE mastermind who is left dangling from a crane in his private submersible.
'Warhead', unfortunately, is unable to provide that satisfactory resolution either as it seems to exist in some strange state of continuity with the official series. The Bond of this script is mentioned to have dealt with SPECTRE before but has never met or seen Blofeld before. Bond's wife is never mentioned. Even based on the potential of the two characters meeting for the first time, there is no antagonism between them. Blofeld is mentioned early on, in his legitimate facade, to be an expert backgammon player, clearly setting up that classic showdown every Bond film must have between the protagonist and antagonist in a casino/party environment. But Bond is captured on his way to the game and it never takes place. The script delivers that final showdown only in that Bond and Blofeld face off in a very colourful, elaborate climax where the latter is disposed of once and for all.
I know you're wondering why I'm skipping to the climax of the script already when I've barely mentioned the first two acts. That is because there is so little to say. It's an almost beat for beat clone of 'Thunderball'. Locations are changed in that Shrublands (the English health farm where Bond is on R&R and the plot coincidentally kicks off) is now a scuba training school in the Bahamas but the events that happen there are exactly the same. From there, we head back to Blofeld's underwater Aquapolis for a painful stretch of 10-20 pages which almost kills the entire piece.
The scenes of SPECTRE's business meetings and conference calls, deliberately mimicking that of any large corporation, were always fun to watch in the original films because they were straight laced satire but also kept the plot moving forward. The 'Warhead' script gets far too carried away with the idea and drones on for several pages on both Blofeld's convoluted plot to take control of the oceans, destablize the world governments and threaten them with nuclear weapons, as well as quarterly reports from SPECTRE agents across the globe regarding operations that have nothing to do with the main story.
So much of 'Warhead' is spent describing SPECTRE's hi-tech underwater vehicles stealing or destroying other vehicles, planting bombs, moving into position or being built and it's extremely boring stuff. The good humour and character interaction that would propel other Bond films through that is completely absent from this completely mechanical script.
The character of Bond himself has very little personality to speak of. As written, he has neither the ruthless efficiency of Connery's Bond nor the wit and charm of Moore's. He has no particularly heroic moments nor does he take the initiative at any stage to figure out the plot before either the audience or the rest of the characters. For the most part Bond isn't even carrying out the mission by himself, CIA pal Felix Leiter acting as his partner. It certainly makes you appreciate 'Never Say Never Again' more; a film which added the fantastic element of presenting a James Bond seemingly out of synch and touch with the modern world, removed from his former job as a '00' agent, forced to cut down on his lavish lifestyle, put back into action out of his government's desperation and yet still managing to show that nobody does it better.
But it is the female characters who suffer most in 'Warhead'. The first one we meet is Bond's personal scuba instructor who goes by the name of Justine Lovesit (which prompts a response of "does she?" from Bond) and it just gets worse from there. The role of SPECTRE double agent Fatima Blush is a complete black hole of personality, totally devoid, of the unhinged sexual energy which would be brought to the part by Barbara Carrera when she played the part in 'Never Say Never Again'. She swoons over Bond to get close to him but the script never quite makes it clear whether she is an evil assassin ready to stick a knife in him or whether she has genuinely fallen our hero. Most fatally of all, the main heroine Domino is revealed in this script to be Fatima's twin sister who boringly wants revenge on Blofeld, makes out with Bond in their first scene together, gets captured soon afterwards and doesn't show up again until she needs to be rescued in the finale.
But what a finale we get. The big reveal in Blofeld's master plan turns out to be the use of robotic sharks to transport explosives through the sewers of New York. In the space of about 30 pages, we go from Bond chasing after those sharks and playing a deadly game of cat and mouse with Blofeld's henchman Genghis, to a military assault on SPECTRE's Statue of Liberty headquarters. Since our mind's would still be intact at this point, Blofeld escapes the statue and onto Aquapolis where Bond engages him in a final duel in the mobile underwater metropolis. The only disappointment is that Bond manages to defeat Blofeld by pure luck, accidentally pressing a button which seals the evil genius in a tube and then shoots him into the ocean.
It is grandiose, it's absurd, it is the kind of glorious action lunacy which we simply do not get on screen anymore, not even in Bond films. But it was not enough to redeem the rest of what I read. If 'Warhead' had been made as intended in the late 70's, I strongly feel, however happy audiences would have been to see Connery return, that the film would have served only as a stale reminder of all the reasons he grew dissatisfied with the series in the first place as well as how the official series never lost sight of the need to move with the times. 'Warhead's is best left as a curious relic of its own time.