Thu, January 14, 2010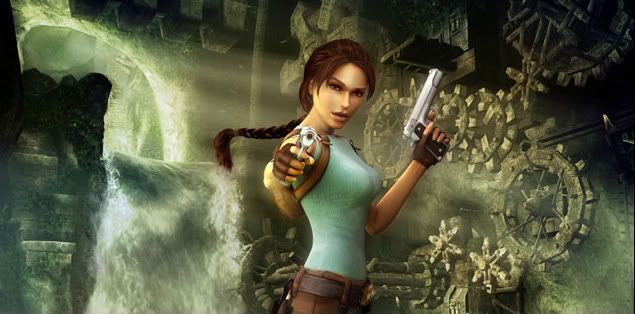 I know you're all shaken up by the big news about Peter and Jamie so just to cheer you up, I'll let you have this week's memo a day early. That's the kind of guy I am. So far in this series we've taken a look at ways to breathe new life into film franchises which could use a respirator. And we've also taken a look at some franchises which could use emergency surgery. But Tomb Raider is a different matter altogether.
We're talking about a franchise where even the source material that the films are based on is practically dead. The last game in the series 'Tomb Raider: Underworld' felt like it was lost in time, a time where wonky controls and frustrating camera angles were acceptable. But games like the 'Uncharted' series have left Lara Croft in the dust and 'Underworld' was released to lacklustre reviews and, even worse, lacklustre sales. Gamers clearly don't care about Lara anymore. I mean we're talking about a franchise whose corpse needs to be dug up and then re-animated using mystical voodoo magic. That's how dead Tomb Raider is right now.
So why do I care more about seeing another Tomb Raider film than Indiana Jones 5? Why do I care more about a spin on the genre rather than the series which created, defined and inspired? No, it isn't because I'm mad. That's par for the course at this point. It's because Tomb Raider deserves a good film. I do not believe in any 'videogame to film translation' curse which automatically dooms any adaptation to be a car wreck on-screen. Every videogame movie has its own specific reason why it failed and the Tomb Raider film has many.
But they all seem to boil down to the fact that its director Simon West either didn't know how or didn't care to make an exciting adventure film. I've heard other people go easy on the first Tomb Raider movie but I will hear none of it. I've rarely seen a film so incompetent. A film about treasuring hunting in exotic locations which contains absolutely none of it before the one hour mark. A film which makes the dense jungles of Cambodia look like the back-lot at Pinewood Studios (which I think it probably was). A film which seems to be trying to be grounded and realistic but throws in giant statues coming to life and people being frozen in time. A film which takes a simple plot and makes it look incomprehensible. A film where an epic battle with the Illuminati over control of the Earth plays out as the most deflating confrontation is film history. To this day, I can't believe that 'Tomb Raider' and 'Con Air' were directed by the same man.
I'm not saying, had it worked, that Tomb Raider would have become a film series to rival James Bond. All I am saying is that she is a cool character with a lot of cinematic potential and she deserves a good picture, as does the entire videogame movie genre. I will admit that one of the main reasons for even musing over another Tomb Raider film myself is inspired by the thought of seeing one particular actress in the title role; Rebecca Hall. Having made recent appearances in, among others, 'The Prestige', 'Frost/Nixon', and 'Vicky, Christina, Barcelona', Rebecca is quickly becoming one of most well known and versatile younger actresses. The posh accent comes naturally to her. She has an athletic build, and can see-saw between the delicate ladylike poise of an English rose and a spunky, adventure seeking hot head. If you can point out an actress who is a better fit for Lara Croft than her then I'd like to hear it. The only problem is that she's too perfect for the part, literally too good for it. Rebecca Hall wouldn't be caught dead in this picture. We'd best put together a good enough story (and pay check) so she'll say yes.
Having watched both films and played all eight videogames, I can assuredly say that the best story out of all of them, and slightly depressingly, is the original game originally released in 1996 and remade a decade later as 'Tomb Raider: Anniversary'. For the unenlightened, the story begins in New Mexico where nuclear testing accidentally cracks open a seal of ancient design, and releases the mysterious figure inside. Decades later, Lara Croft is hired by enigmatic millionaire Jacqueline Natla to find an artefact know as the 'Scion', the supposed power source of the rulers of Atlantis. Once in Peru, having located the Scion, Lara realises it's the genuine article when Natla's henchman Larson tries to double cross and kill her. Furthermore, the piece she has is merely one of three. Out-racing slimy Frenchman Pierre Du Pont in Greece to the second piece allows Lara to join the two she has together, pointing the way to the third in Egypt. Once all three are joined, Lara sees a vision which makes everything clear. Natla is actually one of the three rulers of Atlantis, dethroned by the other two for her misuse of power and imprisoned in the bowels of the Earth until that explosion in New Mexico freed her. Taking the Scion from Lara, Natla finally has the power of Atlantis back in her possession and can pick up where she left off all those eons ago. Lara, having escaped death once more, races to face her enemy in the remnants of the lost continent, determined to save the world from whatever fate Natla has planned for it. Oh, and to do it she only need fight her way through hired goons, deadly traps, dinosaurs and Atlantean monsters.
As you can see, it's a captivating plot with a great villain, a cool twist, and a solid three act structure with plenty of opportunity for action sequences, not to mention the MacGuffin is based upon Atlantean mythology which is so open to interpretation that you can go a little crazy with monsters and amulets of power and the audience will go with it. But it is not enough to simply copy the plot of the game beat for beat and put it on screen. I really think it is worth taking a 'Casino Royale' approach with Tomb Raider. This is not to say that the story should tell her entire origin, starting from childhood, but rather show the audience her first mission, which presents challenges and odds previously unknown to Lara and which shape her into the veteran character we all know from the games. The Lara of this new film would be a budding adventure seeker/archaeologist who, as we meet her, has had little experience or success in her travels. Rather than being an orphaned heiress to a vast mansion and seemingly unlimited wealth, our Lara is a rebellious outcast who has been disinherited by her father and is determined to make a success of the path she has chosen.
The film would be largely about obsession and in this, Lara and Natla are quite similar. Both have been expelled from paradise, in their own way. Neither one will give up and the key to success for both of them is the Scion. Natla needs to take back the power she lost and to gloat over the long dead rulers who expelled her. Lara needs to find an artefact of unprecedented historical significance to bring her the success she craves, and probably to gloat over her estranged father. Natla chooses Lara to find the Scion piece in Peru very specifically over more experienced treasure hunters in the hope that she will blindly stumble into and expose the booby traps which lay inside, get herself killed and allow Larson the lackey to take it from her corpse. Instead, despite her inexperience, Lara's determination to succeed gives her an unexpected strength and resolve against the obstacles she faces. What makes her a complex character is that this willpower comes, not from a desire to do anything good or selfless, but simply to vindicate herself. This obsession comes to a head in the climax where Lara is forced to take a life and experiences a catharsis .
The remake of the original game added a very significant moment to the story which had been missing from all of her previous adventures and addressed something which always bothered me about the character. Lara may be a veteran adventurer but where in her job description does it read "has no hesitation about gunning down countless human beings". From the second game onwards, the player as Lara is required to mow down hordes of human enemies with a variety of weapons, all to beat someone else to some treasure. It never sat well with me that she was capable of it. In 'Tomb Raider: Anniversary', there are only three human adversaries apart from Natla. Two of them accidentally kill themselves and the other is Larson who, in a final face off with Lara is gunned down by her in self defence. It is clearly the first time Lara has taken a life and is something she feels genuine remorse for. I'd want this moment put on screen beat for beat. In this film, it snaps Lara out of her own obsession when she sees the price to be paid in Larson's dead body. It is from that moment that she becomes the Lara Croft we know; the hero who forsakes her own selfish pursuits (and her life if she fails) to face overwhelming odds and destroy the Scion and Natla.
So we have a driving action adventure story that deals with a theme, allows its main character to develop and grow, but never looses sight of its primary function to entertain and thrill. When you get right down to it, that's where the original film failed. It was a pretentious load of twaddle that thought it was better than the source material and tried to change it into something that Tomb Raider wasn't. It is true enough that other videogame movies have tried to take their inspiration directly from the games on which they are based and have failed ('Doom' for one) but in this case, we're talking about source material that itself is directly inspired from movies. If they can pull this off, not only will they have made a good film but they may very well end up bringing the game series itself back from the dead. In short, Lara doesn't deserve to stay buried.
But maybe you disagree. Maybe you don't care. Maybe you believe videogame movies never can and never will work. As always, I welcome your abuse and feedback folks.