Tue, August 6, 2013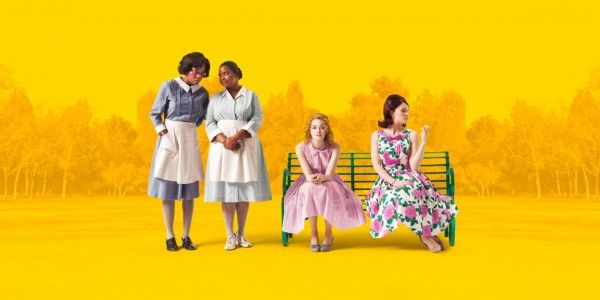 I have 42, the story of Jackie Robinson breaking the color barrier in Major League Baseball, waiting for me at home. I had wanted to see it in the theaters, but never got around to it. I'll be watching it soon and will have a review up after. But, in the meantime, I thought I'd share an older review of mine about a very similar subject. This is not the sort of movie that is normally reviewed on this site and I thought it may be a nice change.
A few months ago, my girlfriend mentioned to me that she was reading "The Help", a book about a young, white woman's relationship with two black maids in 1960's Mississippi. She ended up loving the book, and told me that they were adapting it into a movie. Therefore, I pretty much accepted the fact that I'd be seeing this movie whether I wanted to or not. To my surprise, I actually really enjoyed it.
I'm not going to go into plot details, but I will say that Viola Davis, who plays Aibileen, deserves some sort of nomination for her performance here. She is absolutely pitch-perfect. I haven't read the book, and knew next to nothing about the story going into it, but it took less than five minutes for me to realize that this actress was going to carry the film. The "it" girl of the moment, Emma Stone, who seems to be in everything short of a biopic on Hulk Hogan, was very good as the main character, Skeeter. She is a writer at heart, who gets a job at the local paper as a "homemaker hints" columnist. She is then able to parlay that into an idea for a book about The Help based on the lives of the maids who have spent their entire life taking care of white children.
As one can imagine, this was a very controversial stance to take for a book at the time. I really thought that Skeeter showed great courage continuing through with the book, even though she knew that if she and the maids were ever discovered writing down any negative stories regarding white families, the consequences would be disastrous.
I'm not really doing a good job of hitting the points I wanted to in this review, as I have made it sound like a typical race relations story set in the early 60's in the south. Take my word that the film is anything but.
There are few things that get under my skin as much as racism and that could be why I had a strong emotional response to this movie. Once again, it's not as simple as "Blacks are good and whites are bad" and if that's the main idea you walk away from this review with, blame me. The film makes you think on several levels and what is most striking of all is the fact that it really wasn't that long ago that the treatment of blacks as second class citizens was commonplace. I would be remiss, if I didn't mention that there were several lighthearted, comedic parts as well that helped break up the heavy ideas explored. Octavia Spencer portrays Minnie Jackson, whose outspoken ways have put her in a tough spot. What really drives her actions and character home, however, is the fact that she is responsible for being both serious and fun, all within a moments notice.
The audience that has found this website so far may not be the audience that would normally appreciate a film like The Help. One of my goals as a writer here is to hopefully open some readers up to experiencing films outside of their comfort zone. If you see this film, and I recommend you do, don't see it to help fulfill your chick flick quota with your significant other. See it for the performances and for the real life situations that may help open your eyes beyond what things are like in your own world. I think the inward trip the film takes you on is well worth the two hour running time.