Wed, July 3, 2013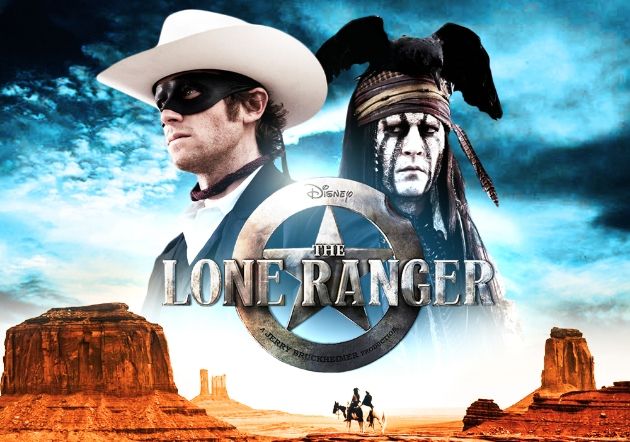 If there's one thing Disney can do, it's make thoroughly entertaining block-busters that divide critics and wow and amaze audiences.
JOHN CARTER was the most recent one, being the victim of Hollywood bullying, marketing gone awry, and general lack of interest from an audience that has known to accept Marvel movies as a viable source of nutrients, and deny everything remotely interesting or fun.
The Lone Ranger was getting shit before it was even released, as all Disney live-action ventures do (it's the cool thing if you're a movie critic to hate Disney fims. See Tron legacy, John Carter, etc), and it was all focused on Johnny Depp as Tonto and a blown budget and etc etc.
Well surprise, surprise when the film is released critics go bat-shit and throw words like TOTAL FLOP and HORRIBLE and everything under the sun, like Depp and Verbinski rode Silver over their mothers corpses while burning an American flag and pissing on a picture of Christopher Nolan and Joss Whedon together.
While my beliefs and thoughts are my own; I am here to say THE LONE RANGER was a good-old fashioned summer thrill ride, that had me hooked from the opening scene.
The film plays out like someone took Dances With Wolves, The Legend of Zorro, Red Dead Redemption, Shanghai Noon, and Wild Wild West then threw them all into a melting pot, after sprinkling some spirit-sauce from a time where movies were magical and summer films were a big event that weren't wholly reliable on super-heroes.
Depp and Hammer play excellently off of each other, which is the glue that holds the film together when you think it might be getting a bit long-winded (it could have used a light shave, running at almost 2 hr 30) and I'd love for this movie to do well enough to get more adventures out of them.
The script feels like someone wanted to write the most fantastical Western they could think of, and I honestly think it worked. You have the strong-jawed American hero, his partner (not by any means a sidekick), the badass leading female, the villain and his cronies, spectacular set-pieces, a varied and colorful cast, and a riveting score that makes you feel like a child again. (I might be gushing a tad; but you get the idea.)
Verbinski behind the camera and at the head of a Western was the best move that Disney made, and I'll stand by that. Some of the shots in this movie are breath-taking. He never loses the characters in the over-the-top action and spectacle, and almost every shot looks like it could be paused, printed, and hung on a wall as a Western painting.
I don't want to get too spoiler heavy on plot and character development; but it's all there in a nice bow. Depp's character actually has a really justifiable reason to "be a Jack Sparrow clone" as so many say; and Tonto's back story highlights some of the fims darkest and most emotional parts.
Tonto is also crucial to who The Ranger becomes and how, and it's all very fun to watch on screen, as well as William Fitchner and Tom Wilkinson who play off each other too well as old-west monsters who get their comeuppance in a classic Hollywood fashion.
If you're not in the mood for kid's movies, have a few hours, and don't mind going into a film with an open mind, I can't see why you wouldn't enjoy The Lone Ranger.