Sun, June 17, 2012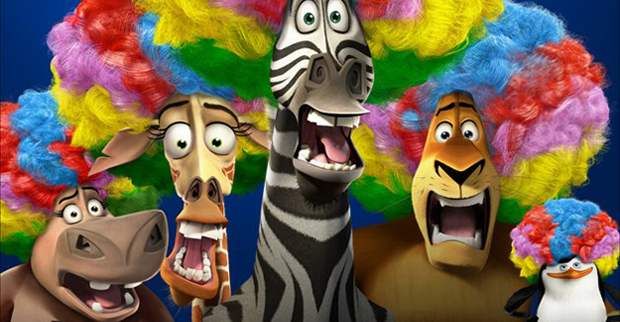 Courtesy of Box Office Mojo:
1. Madagascar 3: Europe's Most Wanted - $35.5 million
2. Prometheus - $20.2 million
3. Rock of Ages - $15 million
4. Snow White and the Huntsman - $13.8 million
5. That's My Boy - $13 million
6. Men in Black 3 - $10 million
7. The Avengers - $8.8 million
8. The Best Exotic Marigold Hotel - $2.2 million
9. Moonrise Kingdom - $2.1 million
10. What to Expect When You're Expecting - $1.3 million
This is how bad this weekend's box office was: despite dropping a cringe-inducing 60% drop, Prometheus still blew away both of this weekend's new releases. Ouch.
Kids' movies will generally win the box office - especially when there really aren't any other kids' movies around - so Madagascar 3 easily held on to top spot with an estimated $35.5 million. With schools starting to let out for the summer, the animated threequel has also enjoyed a healthy box office run during the week, so its domestic total now stands at $120.4 million, with an addtional $157 million coming in from overseas markets.
The aforementioned Prometheus came in second again, this time with an estimated $20 million. The sort-of Alien prequel has earned $88 million domestically, and $128.6 million overseas. Whether it's any closer to the sequel some of us might like to see (I would), that remains to be seen.
Rock of Ages, based on the far-superior Broadway musical, fell flat this weekend with almost sad $15 million. Anyone hoping this would hold its own like Mamma Mia! did in 2008 - that managed an impressive $27.8 million and opened as the same weekend as The Dark Knight - are sure to be disappointed, as it seems this one is already a box-office dud, although it might find a second life once it hits DVD.
That's My Boy did so badly it could barely compete with the third weekend of Snow White and the Huntsman, landing in fifth place with an awful $13 million. Hell, even Adam Sandler's Jack & Jill opened better than that back in November with $25 million. That's just sad...although the movie did look dreadful. Snow White, in the meantime, has earned an estimated $13.8 million to bring its domestic total to $122.6 million. Not bad, but not all that great either.
Still in limited release, Wes Anderson's Moonrise Kingdom had the strongest performance per theater this weekend, earning an average $12,253 at its 178 locations. The film has earned $6.7 million.
Pixar returns next weekend with Brave, their first girl-centered feature. Also opening theaters is the big-screen adaptation of Abraham Lincoln: Vampire Hunter, and the Steve Carell's apocalyptic comedy, Seeking a Friend for the End of the World.