Thu, January 20, 2011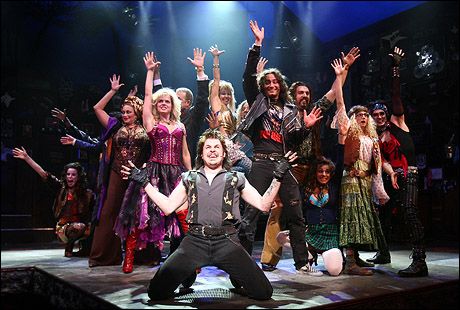 When Rock of Ages first opened on Broadway, I didn't want to see it. I had no desire to pay outrageous Broadway ticket prices to see some jukebox musical that was made up of songs from my eighth-grade record collection and starring an American Idol castoff. But then I did end up seeing Rock of Ages (with discount tickets) and not only did the show remind me of just how awesome my eighth-grade record collection was...I even cheered along when an overzealous audience member yelled "Take that, Simon!" after Constantine Maroulis hit a simply unbelievable high note at the end of "Oh Sherrie."
Audiences have been wild for this impossibly silly show about the inhabitants of a 1980s Sunset Strip nightclub since it opened on Broadway in 2009, so inevitably a movie version is now in the works, with Adam Shankman (Hairspray) set to direct. While nothing has been officially announced as far as casting, it's looking likely that the movie will star Alec Baldwin as the club's ex-hippie owner Dennis, and Tom Cruise as hair-band superstar Stacee Jax.
Now Deadline is reporting that Russell Brand is "circling" the role of Lonnie, the narrator of the show who also runs the club with Dennis. It's arguably the most fun role in the show: as narrator, Lonnie gets to break the fourth wall by talking directly to the audience and reprimanding other characters whenever they do something stupid. He consults a "Musical Theater for Dummies" book when trying to find a way to end the first act and at one point even hauls out a Rock of Ages playbill to convince another character that they're just doing a show. Most importantly, if Brand takes the role, he'll get to do a duet of REO Speedwagon's "I Can't Fight This Feeling Anymore"...with Alec Baldwin. That scene was hilarious onstage, so I can't imagine what those two will do with it.
If all goes well, the movie is expected to start shooting in May. The stage version is on a temporary hiatus while the production moves to a new theater, but it's set to re-open on Broadway in March.