Tue, August 31, 2010
Oh, you lucky British bastards. I've been in full Back to the Future geek mode since watching the trilogy for the first time in ages this past weekend. Technically speaking I've been in BTTF geek mode since 1985, but a Nick at Nite marathon and a blu-ray box set release date looming closer tends to amp up the geekdom a little more than usual. I even dug out my old Back to the Future official movie magazine that's now in such terrible shape that it looks like a DeLorean ran it over several times...because it's just kinda awesome to still have it after 25 years.
However, something really cool is coming to UK cinemas in October...a Back to the Future re-release! Check out this sweet new poster, courtesy of Empire: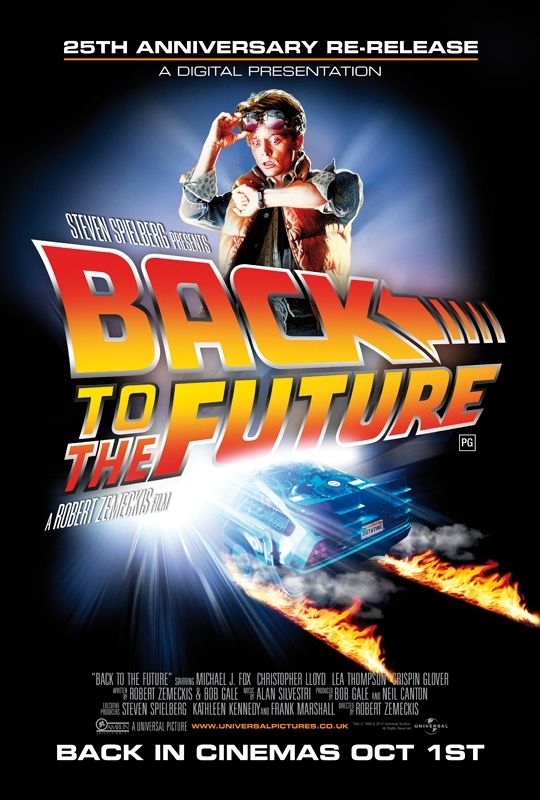 Sadly, it doesn't appear that a US re-release is happening too (hence the "British bastards" comment mentioned earlier), which is too bad, since it would be amazing. The movie theater where I saw the original movie was torn down and turned into a Petco years ago, so it's been awhile since I've seen it on the big screen, and I've love a chance to check it out again.
Oh well. At least we're all still getting that excellent blu-ray box set on October 26th, 2010...which, as BTTF geeks know, is also the date that Doc Brown originally intended to travel to before all hell broke loose in the first film. And I so plan on watching my new Back to the Future blu-ray that night.
However, if you do wish to continue to remain seethingly jealous over the UK re-release (and that's totally understandable), be sure check out the trailer below. I promise it won't make you feel any better about all of this.