Fri, December 4, 2009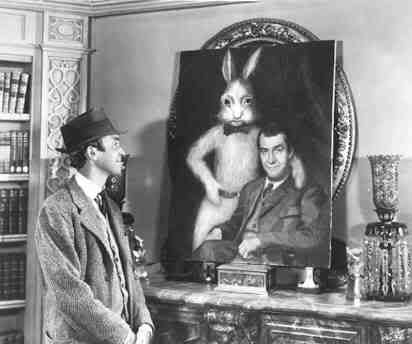 Being the biggest filmmaker on the planet doesn't mean you'll avoid Development Hell every now and then. When it was first announced Steven Spielberg would direct a remake of Harvey, it was met with little-to-no positive fanfare. Even your never-so-humble correspondent failed to see the logic in such a decision. I say that but we all would have still paid the money to see it. The key word being "would have."
Variety reports the Beard has officially dropped out of the project. It's been nothing but a pain in the ass for the director to cast. Original choice Tom Hanks immediately said, "Hell no!" to starring and subsequent second-tier Robert Downey Junior didn't see eye-to-eye with him. When you can't get either one of those stars to commit, it won't get any easier. I could see Brad Pitt bullshitting about a giant invisible rabbit though.
Were Harvey to have moved forward, it would have been the second film in a row Spielberg directed that damn-near nobody cared about except for him. The first is the currently in-years-along post-production The Adventures of Tintin: Secret of the Unicorn. You know anyone who's chomping at the bits to see Tintin brought to life with motion-capture technology? I didn't think so.
So what does he do now? The trades are saying Spielberg is itching to helm another movie. With all the projects he's attached to at the moment (i.e. Lincoln, Interstellar, Indiana Jones 5, etc.), he has plenty to mull over. I'd prefer to see him continue in the direction of Munich, one of his top five best films in my opinion. But he seems content with delivering popcorn spectacles. Sure, he's the best of the best in that department. But isn't he past that phase – especially with the likes of Christopher Nolan, J.J. Abrams, Bryan Singer, Michael Bay, etc. already carrying that torch?