Thu, June 27, 2013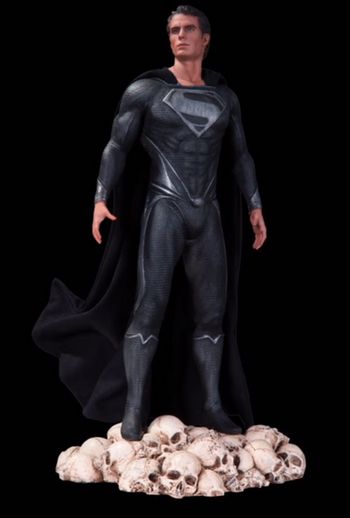 DC Comics has been releasing exculsives for San Diego Comic-Con at the Graphitti Designs booth for a while now and this year seems to hold even more than before. You can see a list of all the great toys that will be available for purchase below.
DC Collectibles, the high-end toy and collectible line from DC Entertainment, today revealed four "con exclusive" products that will only be available to those attending San Diego Comic-Con on July 18-21. Check out the exciting line-up below!

The first is Aardman: Superman Action Figure designed by Rich Webber and sculpted by Phil Ramirez. Created by Aardman, the British brains behind "WALLACE AND GROMIT," is their own unique take on the Man of Steel. He is based on the popular interstitial shorts shown during DC Nation on Cartoon Network. Aardman: Superman is approximately 6.5" tall and is priced at $24.95.

The second is a three-pack of Super Best Friends Forever Action Figures, designed by Lauren Faust and sculpted by Irene Matar. Super Best Friends Forever is also from the popular interstitial shorts aired during DC Nation on Cartoon Network and they are ready to take care of business! Meet Super Best Friends Forever: Supergirl, Batgirl and Wonder Girl, measuring approximately 6.5", 5.45" and 6.8" tall, respectively. This three-pack is priced at $49.95.

The third, Batman Arkham City: Hugo Strange was sculpted by Sam Greenwell. The Hugo Strange Action Figure is based on the designs of the critically acclaimed video game from Rocksteady Studios and Warner Bros. Interactive Entertainment, Batman: Arkham City. He measures approximately 6.75" tall and is priced at $29.95.

The fourth con exclusive is DC Comics' Superheroes of Green Lantern four-pack. Green Lantern Sinestro and Dex-Starr were sculpted by Robert Lynders and Arkillo and Black Hand were sculpted by Phil Ramirez. Make sure to put the universe's most fearsome foursome on your must-have list for SDCC; you don't want to cross this intergalactic quartet! This set is in the 3.75" scale and priced at $49.95. This is the latest in the popular 3.75" con exclusive action figure from DC Collectibles.

DC Collectibles' con exclusives will be available for purchase at the Graphitti Designs booth so make sure to stop by!


It's interesting that these items were first announced near the end of May and just last week DC popped another suprise exclusive for Superman fans to salivate over. I think it's safe to post here now with Man of Steel well into it's release that the most recent and probably final item at the booth will be the Gentle Giants Superman sculpt with black suit standing atop a base skulls.

This is a very quick scene in the movie and some people didn't even realize the suit was fully black until the release of this statue. Graphitti Designs has a great track record of posting the exclusives on their website shortly after the con is over so keep your fingers crossed that they offer the same option this year.