Mon, August 27, 2012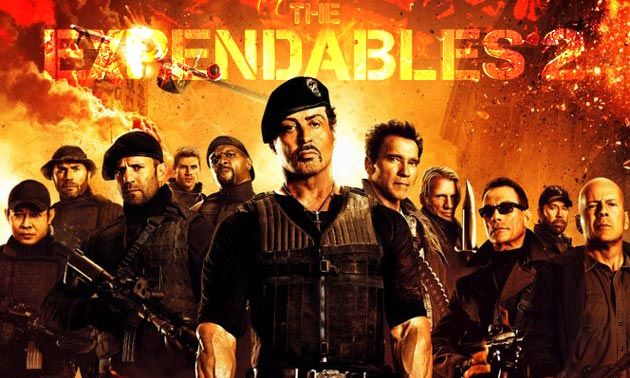 Courtesy of Box Office Mojo:
1. The Expendables 2 - $13.4 million
2. The Bourne Legacy - $9.3 million
3. ParaNorman - $8.6 million
4. The Campaign - $7.4 million
5. The Dark Knight Rises - $7.2 million
6. The Odd Life of Timothy Green - $7.1 million
7. 2016 Obama's America - $6.5 million
8. Premium Rush - $6 million
9. Hope Springs - $5.7 million
10. Hit & Run - $4.5 million
Oh boy, you know summer movie season is definitely winding down when finishing in eighth place is the best a new release can do. That's just where Premium Rush, the bicycle-messenger thriller starring Joseph Gordon-Levitt ended up this weekend with just $6 million...and again, that was the most successful of this weekend's new releases. Hit & Run just barely made it into the top ten with just $4.5 million, and The Apparition, which earned a whopping 3% score on Rotten Tomatoes, completely missed the top ten, landing in 12th place with $2.8 million.
Yikes. Anyway, The Expendables 2 easily held on to the top spot for a second weekend, dropping only 53% to earn $13.4 million. It's not doing as well as the original film, but it's doing decently. Pretty much the same can be said for The Bourne Legacy, which stayed in second place with $9.3 million. That one also won't be catching up to any of its predecessors, at this point it will be lucky if it cracks $100 million domestically.
The biggest success story of the weekend was the documentary 2016 Obama's America, which went into wider release just in time for this week's Republican National Convention in Tampa. The film earned $6.5 million in only 1091 theaters, putting it in Michael Moore/Al Gore territory as the sixth-highest political documentary of all time.
Meanwhile, another round of applause should go to The Dark Knight Rises, which made its way back into the Top 5 with $7.2 million (still having control of most of the IMAX screens certainly helps here) and bringing its domestic total to $422 million. Worldwide, the Batman finale has earned $941 million and looks likely to cross the $1 billion mark worldwide.
Even with idiotic parents putting their children's sobbing reactions to the ending on YouTube (I won't link it, go look for it if you're curious), The Odd Life of Timothy Green managed to outdo this weekend's new releases with $7.1 million. More families wisely opted instead for the animated ParaNorman, which took third place with $8.6 million.
Next weekend really looks like the end of summer, with the gangster-movie-that-isn't-Gangster-Squad movie Lawless opening in theaters, another dumped-in-theaters horror film, The Possession, and whatever the hell the The Oogieloves are. Apparently they're having a Big Balloon Adventure.
Enjoy the last week of the summer, everyone!