Thu, April 26, 2012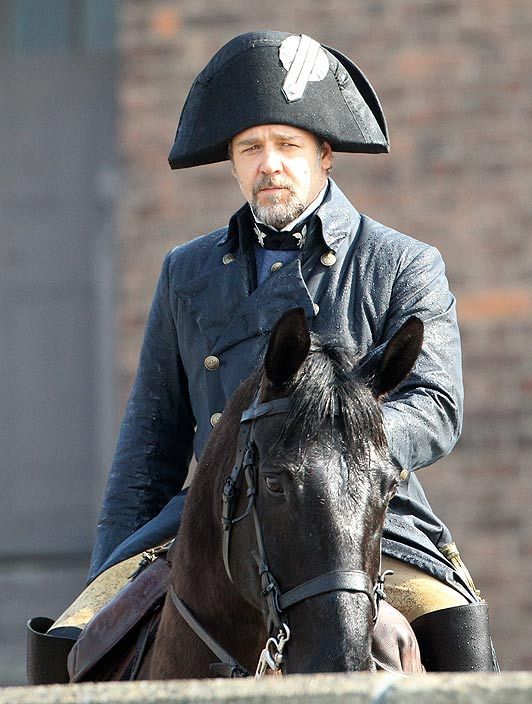 Fans who have been following the production of the big-screen version of Les Miserables have been treated to some hilarious updates recently courtesy of Inspector Javert himself, Russell Crowe, who has been posting Twitter updates about the possible whereabouts of Jean Valjean - the escaped convict (aka: prisoner# 24601) that his character pursues throughout 19th century France - sometimes by quoting song lyrics and at one point tweeting a veiled threat to his co-star.
Here are few of the Twitter updates - you may also notice that being an Oscar winner does not protect one from the consequences of auto-correct.
Russell Crowe @russellcrowe:

5am-12.30am,door 2 door,long day. Had a bit of a sing,released a prisonner on payrole after 19 years...24601...enjoy your hours of freedom

I won't be in Winchester until all Winchesterians are in bed and the town becomes Paris in the still of night. I will be waiting, 24601.

Ou est l'enfant Coisette? @realhughjackman I told you I would not be swayed...24601

citizens of Winchester are Wintonians...who knew?Patrolling your streets tonight,do not harbour fugitives,the law will not be mocked

Wrapped at 5.08 am, home now at 6.41am. The night was still and damp in Winchester, icy flagstone for Gymont,no sign of 24601, maybe tonight

A few people saying they stayed up all night in Winchester mmm, there was nobody about when I was patrolling the streets

Winchester has it's beauty for sure. Winchester school is amazing. Couldn't find 24601, slippery bastard.

Got a tip off on Valjean, will take him down tonight for sure #lesmis

In his own words, it was a loaf of bread...that is not my concern, he broke his parole #lesmis

The prefet de police de Paris was wrong...merde...you know when you just know something? tomorrow, I'll check the hospital #lesmis

I know it's him, he knows I know...when I confront him tonight, I'll be all... "Valjean...at last..we see each other plain." #lesmis

Alright,look,slight set back tonight...not that Valjean got away or anything... just misplaced (cough),waiting for dawn,hunt resumes #lesmis

just finished a vocal warm up at half past midnight, back into the fray...wherever you may hide away JVJ #lesmis
So it sounds like, going by the hospital reference, and just because I know the score to Les Miz backwards, that they were filming the scene just after the death of a certain character, when Javert confronts Valjean and attempts to arrest him as he pleads for time to help the orphaned daughter of the character who had just died.
This is the song they were filming. It's from the Les Miserables 25th Anniversary Concert, although it looks much cooler in the actual production when the two of them are circling each other and Valjean is threatening him with a chair, which he ultimately smashes into pieces:
I got to see Norm Lewis, who played Javert in that concert version, in the Broadway production of Les Miserables in 2006. He was amazing.
As far as the aforementioned Twitter updates: "Misplaced"? Yeah, right. That scene ended with Valjean throwing down the broken chair leg he was about to attack Javert with, and then he just knocked him out with one punch. Javert didn't find him again for 10 years. Suck it, Inspector!
Les Miserables, which really can't get here soon enough, opens in theaters on December 14.