Sun, June 20, 2010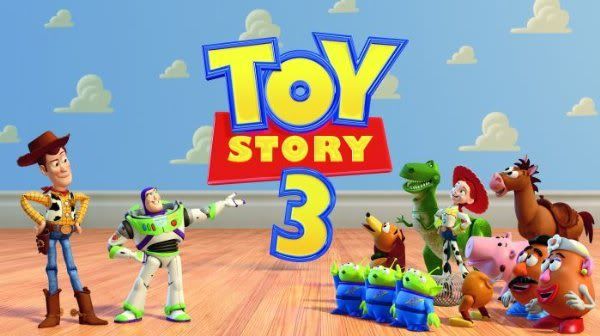 Courtesy of Box Office Mojo:
1. Toy Story 3 - $109 million
2. The Karate Kid - $29 million
3. The A-Team - $13.7 million
4. Get Him to the Greek - $6.1 million
5. Shrek Forever After - $5.5 million
6. Prince of Persia: The Sands of Time - $5.2 million
7. Killers - $5.1 million
8. Jonah Hex - $5 million
9. Iron Man 2 - $2.67 million
10. Marmaduke - $2.65 million
Welcome back, summer!
As expected, the amazing Toy Story 3 (which I've already seen twice) took first place this weekend, opening with $109 million. That's the biggest opening for a Pixar film since The Incredibles opened with $70.4 million in 2004, and the third biggest opening weekend of the year.
Toy Story 3 also took an additional $44.8 million overseas, with further overseas releases scheduled to start after the World Cup ends next month.
Last week's champ, The Karate Kid, help up well, dropping only 47% to earn $29 million, and crossing the $100 million mark domestically. With schools letting out this week, this should continue to play well into the summer.
The A-Team, which had a disappointing opening weekend, fell to third place, but didn't do badly this weekend, only dropping 46%. It's still far off from making back its reported $100 million production budget, but it hasn't fallen off the face of the earth in its second weekend either.
Get Him to the Greek continued to perform well with $6.1 million, and Shrek seems headed for that Forever After now that Toy Story 3 is here, rounding out the top 5 with $5.5 million. Prince of Persia even managed a decent weekend with $5.2 million, although its doing far better overseas with $213 million. Killers is also hanging in there with $5.1 million.
It was initially thought this weekend's other new release, Jonah Hex, was making a mistake opening the same weekend as Toy Story 3. Turns out its biggest mistake was existing at all. Jonah Hex finishes a pitiful opening weekend with a barely noticible $5 million. The only good news going for Jonah is that it had a better opening weekend than MacGruber.
Iron Man 2, which finally crossed the $300 million domestic mark earlier this week, finished at 9th place with $2.6 million. Its worldwide total now stands at $604 million.
In 10th place is Marmaduke, earning $2.65 million from presumably anyone who couldn't get into Toy Story 3 or Shrek this weekend.
Check back with Mitch when he updates with actuals. Happy Father's Day!