Tue, November 11, 2014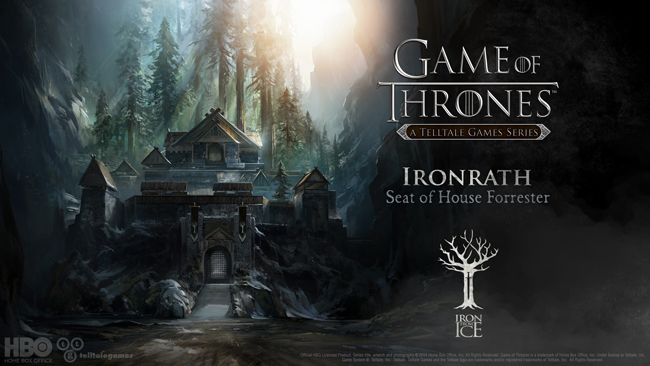 The studio behind multiple Game of the Year winner The Walking Dead and The Wolf Among Us has just revealed the first bit of solid information regarding their six episode Game of Thrones series, expected to hit sometime next month.

Game of Thrones will chronicle six members of the Northerners of House Forrester and their seperate stories all across Westeros, much like HBO's own hit series, giving players a chance to experience a variety of locations and scenarios, all with Telltale's signature enforcement of choice and consequence- something that readers of George R.R. Martin's Ice and Fire and viewers of Game of Thrones should know plenty about.
House Forrester is a noble house from the Wolfswood in the north of Westeros. Bannermen to House Glover, they have always offered unswerving loyalty to the ruling great house of the North – the Starks. The Forresters are seated at Ironrath, an imposing stronghold surrounded by towering ironwood trees. Built over fifteen hundred years ago by Cedric Forrester and his triplet sons, Ironrath is a testament to the strength and endurance of Ironwood. The Forrester house words are 'Iron from Ice', which echoes their belief that - like the ironwood itself - the adverse conditions and unforgiving landscape of the North only makes them stronger.

The series, Telltale notes, is "based on the world" in HBO's Game of Thrones and begins at the end of Season 3, which marked the infamous Red Wedding for Robb Stark and many others at the Twins, and begins right as Season 5 kicks off.
You will play the game from five different points of view. Each character you play as is a member of House Forrester; either a direct family member, or a person in service to the House. Scattered across Westeros and Essos, each character will play their part in seeking to save House Forrester from destruction.

Playing as five characters not only reflects the epic scope of Game of Thrones, but is also something that the player needs to be mindful of. This is because the actions of one character can ripple out to affect the rest of House Forrester. Multiply the actions of one character by five, and you're truly playing the Game of Thrones…where you win, or you die.
More details on Telltale's Game of Thrones are expected soon, with the premier episode "Iron from Ice" heading to PC/Mac, PlayStation 4, PlayStation 3, Xbox One, Xbox 360, and iOS.