Thu, March 29, 2012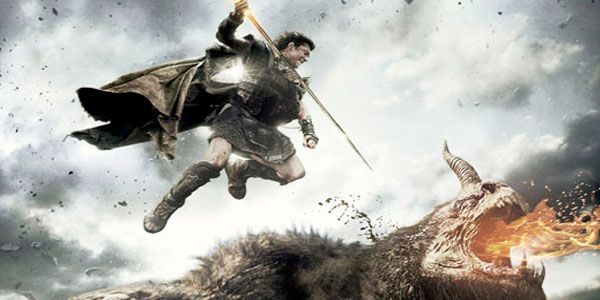 The action heavy Summer movie season doesn't "officially" kick off until May according to a rule of thumb of unknown origin, but somebody forgot to inform the inhabitants of Mount Olympus and the surrounding areas. Wrath Of The Titans is a pleasing onslaught of visuals featuring the dominance of the gods and the ferocity of the titans as they battle for supremacy alongside their human audience in well constructed 3D. The "powers that be" must have taken notes of the post-conversion inspired complaints from the 2010's Clash Of The Titans because the sequel is head and shoulders above the original in the 3D department and the CGI is surprisingly crisp, and dare I say near flawless.
Wrath takes place some years after Clash in a world that has stopped praying to the gods which has in turn slowly started depleting their powers. Without their powers Zeus (Liam Neeson), Hades (Ralph Fiennes), and Poseidon (Danny Huston), are struggling to keep their father Kronos subdued in the underworld. Perseus (Sam Worthington) is once again thrust into the role of savior as he attempts to balance his life as a hero with fatherhood. His brother Ares (Edgar Ramirez) provides a full dose of sibling rivalry but with the help of Andromeda (Rosamund Pike) and Agenor (Toby Kebbel), Perseus takes to air, land, and see to save humanity.
Director Jonathan Liebesman jolts the audience in and out of action sequences using fiery explosions and mythical creatures that you can almost reach out and touch if not for the uneasy feeling you might not get your hand back. The action is so bold and personal that you find yourself imagining that you're on the journey with Perseus and company. The heroes encounter everything from a booby trapped forest inhabited by a family of giant Cyclops to a sweeping battlefield. While the film embraces it's action and latches onto it for dear life, the story gets lost somewhere in Minotaur's maze.
At a certain point the plot becomes forgettable in a sea of swords and fire breathing monstrosities. The eerie calm deliveries of Liam Neeson and Ralph Fiennes don't balance well with the subdued performance of Sam Worthington. Worthington certainly has solidified himself as an able bodied actioner although the general public still haven't allowed him to be a household name despite his solid resume of well known films. Edgar Ramirez is a hurricane of intensity on screen as Ares and Rosamund Pike steals a couple of the few scenes she is in. The humor is injected into the film by Toby Kebbell who seems to be channeling a less annoying version of Russell Brand.
Although I wish that writers Dan Mazeau & David Johnson put more focus on the mythology it's refreshing that the film doesn't take itself too seriously as evidenced when Hephaestus upon seeing Perseus remarks that he is of "Release The Kraken" fame. Wrath Of The Titans doesn't try to be any more than advertised, an action fueled spectacle satisfying all of your important senses. The film shouldn't need to apologize for it's faults, but if it did, it would do so with action. One of the few films I would recommend as a must see on the big screen due to the vast improvement in 3D over the first one which will become a distant memory after seeing this installment.