Sun, October 21, 2012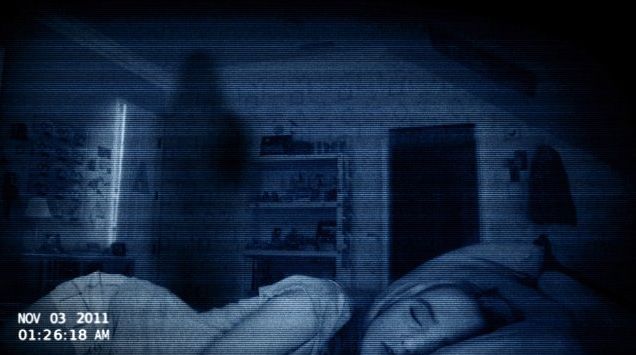 Courtesy of Box Office Mojo:
1. Paranormal Activity 4 - $30.2 million
2. Argo - $16.6 million
3. Hotel Transylvania - $13.5 million
4. Taken 2 - $13.4 million
5. Alex Cross - $11.7 million
6. Sinister - $9 million
7. Here Comes the Boom - $8.5 million
8. Pitch Perfect - $7 million
9. Frankenweenie - $4.4 million
10. Looper - $4.2 million
It may have come in first place as expected this weekend, but Paranormal Activity 4's $30.2 million opening was as underwhelming as the movie itself (unfortunately) was. Of course, the Paranormal movies are made for basically pocket change, so a $30.2 million opening is actually good news for any low-budget horror movie, but seeing as how Paranormal Activity 3 opened with $52.6 million a year ago, that's an alarming drop for this series. Add in the awful reviews, not just from critics but from audiences who gave it a dreadful "C" Cinemascore rating, and it looks like they really dropped the ball on this fourth entry. That's a shame, since the the third film was actually the best in the series. Let's hope that the already-announced Paranormal Activity 5 gets its groove back this time next year.
More impressive was the second weekend performance of Argo, which dropped a mere 14% to earn an estimated $16.6 million. The Iranian-hostage drama has earned $43.1 million so far. Hotel Transylvania is still proving to be a family favorite for Halloween, earning another $13.5 million. Taken 2 crossed the $100 million mark this weekend, earning $13.4 million.
This weekend's other new release, the revamped version of the Alex Cross series starring Tyler Perry, disappointed this weekend with only $11.7 million.
In very limited release (4 theaters!) Oscar hopeful The Sessions opened very well, earning $121,000.
Next weekend, the Wachowskis are back to blow your mind with Cloud Atlas, Nickelodeon dives perilously close to R-rated comedy with Fun Size, the latest chapter in the Silent Hill series arrives just in time for Halloween, and surfers take to the big waves with Chasing Mavericks.