Fri, February 5, 2010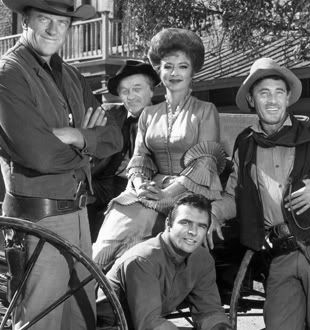 Gunsmoke, a radio serial that ran from 1952 to 1961, overlapped a television series by the same name that started in 1955. The popular gunslinger American western show ran for 20 years, ending in 1975 after producing 635 full episodes. The show's focus was on the adventures of Marshall Matt Dillon as he struggled to maintain order in a small Kansas town filled with vagrant misfits with the assistance of the town's physician Doc Adams and Miss Kitty Russell, the owner of the local tavern.
The character of Dillon on the radio series was voiced by William Conrad, who was publicly shocked and, to a point, embittered by the fact that he was not invited to resume the role once it transition to the screen. Instead, the relatively unknown, but well publicized (introduced by John Wayne in a short trailer for the CBS TV series) James Arness, became the infamous lawman. History, as it seems, has a way of repeating itself.
Enter Brad Pitt and Ryan Reynolds. Both men are reportedly unholstering their guns to take a shot at leading role of a proposed Gunsmoke movie based on a draft by Gregory Poirier (National Treasure: Book of Secrets) which is said to be well received by studios.
Pitt has already saddled up in western flicks like "The Assassination of Jesse james", which makes him the rumored favorite, but Reynolds has also done a great job reinventing himself from the quippy one-liner comedian to a rising action star. He's currently attached as the lead in Warner Bros. "Green Lantern" based on the DC super hero.
Its a toss up for me. I like them both. One thing's for sure, with a concept that ran for twenty years on television, we'll be hearing a lot more on this once a director is named.