Thu, November 4, 2010
The hype machine for Harry Potter and the Deathly Hallows Part 1 is in full-force. First up, our friends at ComingSoon.net have posted a new clip of the Seven Potters transformation scene, in which Harry's friends attempt to sneak a still-underage Harry away from Privet Drive under cover of Polyjuice Potion:
The LA Times also has a new clip from the film on their site, which features Ron and Harry at The Burrow. You can see that here.
In other news, James Cameron is apparently none-too-thrilled about the film's aborted 3D attempt. Sigh. Whatever, James. Moving on...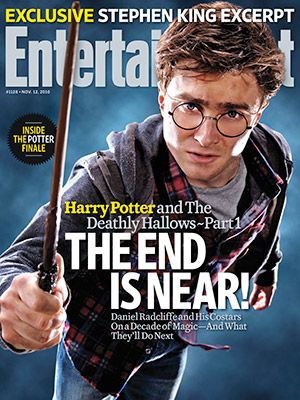 This week's issue of Entertainment Weekly, due to hit newsstands tomorrow, features a Deathly Hallows cover story (didn't they just do this a few weeks ago?). In this preview of the article, the EW staff looks back on 10 years of interviews with the Potter kids, plus they have some almost-freakish "morphing" videos of how the main trio have aged from the first film to the final film.
Have you picked up your Deathly Hallows tickets yet? You might want to plan ahead. Fandango is reporting that advanced tickets to Deathly Hallows are already selling at quicker pace than tickets to the previous Potter films, making up 61% of their daily ticket sales with upwards of 500 shows sold out. So if you want those IMAX tickets for opening weekend, you better get them now.
And if that's not enough Pottermania for you, select AMC Theaters will be holding a mini-marathon starting at 6pm on November 18. For just $20, fans will be able to enjoy the previous two Potter films (Order of the Phoenix and Half-Blood Prince) on the big screen once more, and finish the night with the midnight screening of Deathly Hallows - Part 1. Sounds like fun.