Thu, April 24, 2014
I'm slowly starting to bring back my comic reviews, and if you've read my work before I moved to ThinkMcFlyThink, than you'll probably be familiar with my style and content. Before I used to only review DC Comics. However, now I'm going to try and move forward into other companies. However, this week I'm only going to review a couple comics to get things started. My reviews won't always be on time on Wednesdays, but does that really matter? My reviews contain SPOILERS, sorry but I treat reviews as merely discussions of the content I've read. After all, how can you discuss something without being truthful about some plot twists and turns?
---
Batman Eternal #3

---
Batman Eternal #3 is amazing, literally. It's big in scale and feels exactly how a Batman comic should. There's suspense throughout and the quick pacing of it makes you really feel for the characters involved. And honestly, I prefer Jason Fabok's artwork in Batman Eternal to Greg Capullo's in the main Batman book, but neither artists are better than the other. It's just a personal preference, as I feel Fabok's artwork really meshes with the story told in this book.
What I specifically like about Batman Eternal is that it's somewhat putting the characters of Gotham City in a position we have yet to see. A conspiracy that's bigger than Batman can solve? We've seen that, but we've never quite seen Jim Gordon in a helpless situation where he's been locked up, and is somehow the key pivotal part of the story. Well, not to my knowledge anyway. The first issue made you grasp onto your hope that nothing bad would happen to Commissioner Gordon, whilst the second issue tore that hope away and replaced it with confusion. The third sort of changes the focus now to the bigger scheme in Gotham and how Gordon plays into it, and it's an all-out action-packed issue as well.
This book sort of reminds me of what I've read so far in the pilot script for FOX's Gotham TV show, which features nothing but corruption in the police force and the controller of it is Carmine Falcone. Except in Eternal, it's Falcone returning to Gotham after being forced out and he's now got the city by it's balls, controlling not only the police force but the criminal underground as well. He's blowing up The Penguins' weapon caches and keeping Batman busy and that's what I like about this story - it's an all-out war in Gotham City and it's protectors are helpless. The pace is quick and to the point, and with the book being weekly, that won't be a problem for readers as the fix it easily there without the long waits. Also, the continuity return of Stephanie Brown is nothing but a welcomed thing and it seemingly feels like she'll fit right in with the fact that her father is involved with this Gotham criminal revolution. She's very similar to the version of the character in the old DC continuity, but there's also something fresh about her in this series. In all, this book has a strong grip on the reader and it's incredibly hard to let it go. I tend to avoid review scores...but I'd give this book a perfect 10/10.
---
Marvel's Original Sin #0
---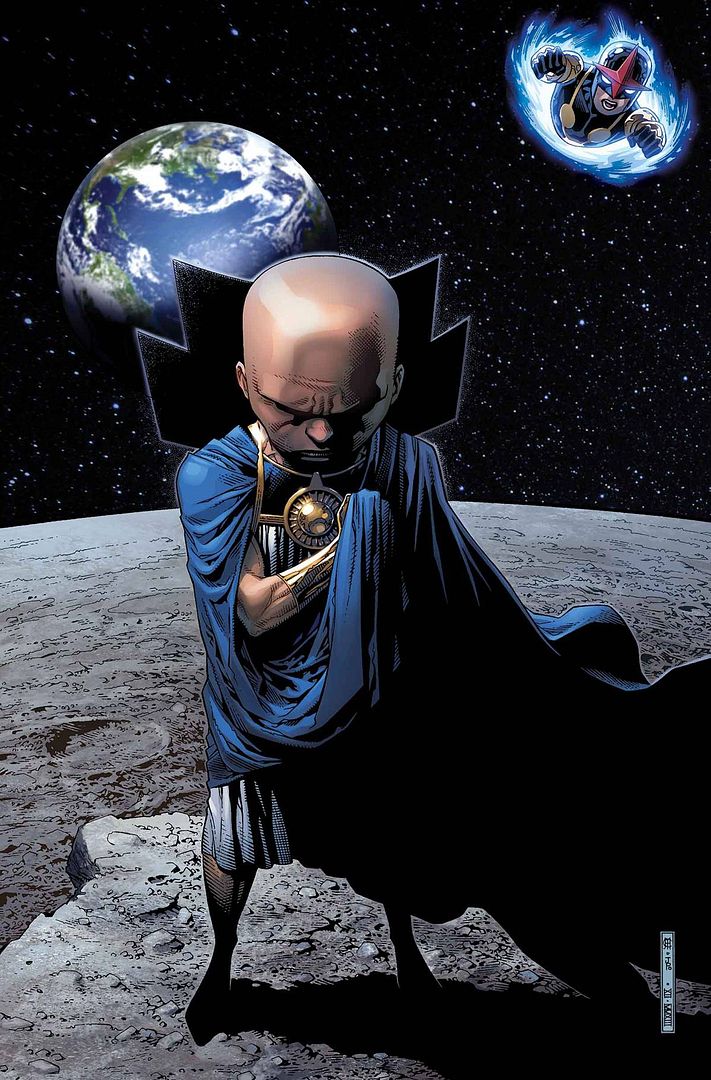 Marvel's Original Sin #0 really, really surprised me. Why? Because it was actually a well thought-out and written comic book that was handled with care. It used a unique character to give the audience some information, and it answered some questions about the Marvel Universe as well as asking some more. Previously, I have had no idea what Original Sin was about. I don't keep up with Marvel anymore, and honestly, their events have been complete trash ever since Civil War. X-Men Schism, Avengers Vs X-Men, Age of Ultron...all of it was at the quality of anal leakage, but hopefully that has changed since Original Sin was really, fucking good and has grasped me to read on.
The best part about Original Sin #0, in my eyes, is that it helped me catch up with what I needed to know in order to hopefully understand the coming events of this comic series. Nova is the surrogate for the audience and helps explain everything and even asks the questions that we are burning to know. Sam Alexander is bleedingly charming as Nova and seems like a relateable enough teenager, a polar opposite of the version in DisneyXD's Ultimate Spider-Man. I've got to admit, as well, some of the dialogue is pretty damn funny. It's got some neat quips here and there that made me chuckle, but never went super overboard with it. Again, what I like about Marvel events is that even though they can be convoluted garbage, they catch you up with what you need to know.
This issue provides a lot of backstory for The Watcher, something I don't think we've had before. We see his origin and how he came to be "The Watcher" and the question of why he never intervenes with the Marvel Universe's business is answered, and it's quite tragic. And although the comic reeks of exposition since The Watcher doesn't talk, it's done in a good way that keeps the pace moving quickly. It's all from Nova's point of view, interestingly enough. However, the use of Nova in this comic wasn't useless at all, as we learn more about him and get a big reveal about his past that's even important to the new readers - his father is alive. Uatu speaks for the first time - in quite a while - to inform Sam and give him some life guidance, and I thought it was a really nice touch to finish off the comic.
Overall, Original Sin #0 is a great, fun read for any fan of comics and hopefully the event doesn't spiral into nonsensical chaos like every other thing Marvel has done eventually did. There's some cool peeks at different, alternate dimensions in this issue as well, one featuring a black Captain America. If you look at the panels and pay close attention, you may spot some cool easter eggs. Anyway, buy this book.