Tue, July 27, 2010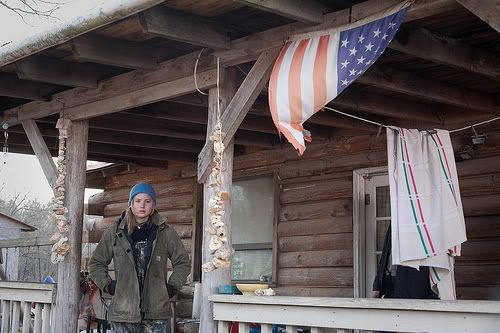 Winter's Bone is one of those little indie films that if you're lucky, you can find in limited release at a theater near you, where it's probably hidden away in the tiniest auditorium next to a concession stand that hasn't been open in years, and usually starts late because even the projectionist seems to have forgotten that it's playing there. That tends to be my experience with these kinds of films, but luckily this movie was worth the aggravation.
Based upon the 2006 novel by Daniel Woodrell, Winter's Bone takes place in a ragingly poor community in rural Missouri, where 17-year-old Ree Dolly (Jennifer Lawrence) bears the difficult burden of having to take care of her sick mother and her younger brother and sister. Her father Jessup is nowhere to be found after being arrested on a meth-lab charge, but they seem to be better off without him anyway, at least they think so. When Ree learns that Jessup had put up their house to make his bail, and that they will lose the house unless he makes is impending court date, she starts a desperate search to find him.
While it seems logical that people would want to help a kid in so much trouble, that's not the case here. With neighbors who appear to have come from the Deliverance School of Terrifying Rednecks (yes, even a banjo makes an appearance), it quickly becomes clear that nearly everyone in town knows something about Jessup's whereabouts, but no one is talking - to the point where Ree's life is in danger just looking for answers.
Directed by Debra Granik, Winter's Bone is bleak and pretty damn miserable. It's not a pretty picture, seeing just how much meth addiction has destroyed entire communities already ravaged by poverty. And it doesn't leave you believing things are going to get better anytime soon either. But it's an extremely intense film that reaches a point where you can't imagine what the hell Jessup could have done to piss all of these people off. While the final reveal is a bit anticlimatic, the buildup is brilliantly done and it didn't disappoint.
Jennifer Lawrence (soon to be seen as Mystique in X-Men: First Class) really carries the entire film, and she gives a terrific, no-nonsense performance, whether she's telling off a sheriff, teaching her siblings how to gut squirrels for dinner, or dealing with scary relatives and neighbors with names like Teardrop, Little Arthur, and Thump. Some of these characters barely spoke a word in the film and they were still scary as all hell.
Hopefully, Winter's Bone will find it's way out of the little theater in the back of the multiplex and into a wider release soon. Yeah, it's a small film, but a pretty riveting thriller nonetheless.