Fri, May 10, 2013
Facebook Pages of ABC programs posted one of the first official pictures of the cast from the upcoming Marvel's Agents of S.H.I.E.L.D. with a notice that you can get your first preview of CSI: SVU: SUPER-HERO BIG BANG THEORY DIVISON after that fairy-tale show on ABC this Sunday. Plot synopsis also revealed and listed below.
Are you ready for more conspiracy theories? You can get a first look at Marvel's Agents of S.H.I.E.L.D. in the season finale of Once Upon a Time this Sunday at 8|7c on ABC. #CoulsonLives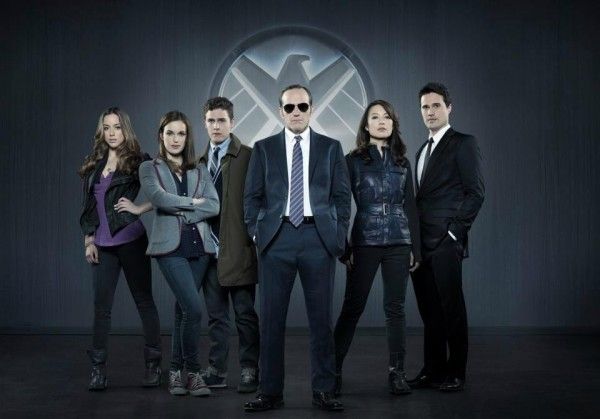 Clark Gregg reprises his role of Agent Phil Coulson from Marvel's feature films as he assembles a small, highly select group of Agents from the worldwide law-enforcement organization known as S.H.I.E.L.D. Together they investigate the new, the strange, and the unknown across the globe, protecting the ordinary from the extraordinary. Coulson's team consists of Agent Grant Ward (Brett Dalton), highly trained in combat and espionage, Agent Melinda May (Ming-Na Wen) expert pilot and martial artist, Agent Leo Fitz (Iain De Caestecker); brilliant engineer and Agent Jemma Simmons (Elizabeth Henstridge) genius bio-chemist. Joining them on their journey into mystery is new recruit and computer hacker Skye (Chloe Bennet). From Executive Producers Joss Whedon ("Marvel's The Avengers," "Buffy the Vampire Slayer"); Jed Whedon & Maurissa Tancharoen, "Marvel's Agents of S.H.I.E.L.D." pilot co-writers ("Dollhouse," "Dr.Horrible's Sing-Along Blog"); Jeffrey Bell ("Angel," "Alias"); and Jeph Loeb ("Smallville") comes Marvel's first TV series. "Marvel's Agents of S.H.I.E.L.D." is produced by ABC Studios and Marvel Television.
So when you see that guy with the Adventure Time profile pic or avatar posting OMG I'M SO EXCITED with a Tumblr gif, you'll know that's the fanbase this show will cater to.