Tue, February 2, 2010
The Spiderman Reboot. By now, we all know its going to happen. We know, by name, the director and his suggested route in which to take our beloved friendly neighborhood wall crawler's movie franchise. Highschool. Teenage angst. Love triangles. Oh, what a tangled web we weave. Sorry, is that too cliché?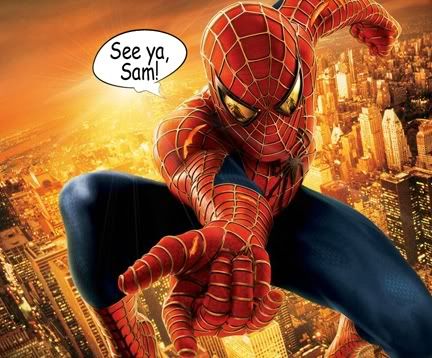 We've heard descriptive phrases like "new direction" and "gritty" that, for some of us at least, tear at our hearts a little. Now, I'm all in agreement to steer away from the derailed train that was Spiderman 3. There were so many loosely tethered ties from character origins to the sanctity of already established supporting characters, that they couldn't even hold for the hour that Spidey's webbing could suspend a pumpkin bomb. Poor casting. Poor story. Yada yada yada, but I digress. Leaving all of that behind, Raimi did serve up some decent mythos in the first film. I'm not going to get misty eyed over it, by any means, but he did establish the web head with an accurate origin story. What? Organic web shooters you say? Will you guys never stop? Seriously. Stop.
So, exactly to what extent will this new direction be taking us? Message boards across the world wide web,..hehe…web…have offered up multiple suggestions of what the viewers do NOT want to see. I'm going to touch on only one of those.
One lonely blogger suggested that Paramore create the soundtrack for the movie, and the plot be centered around Mary Jane Watson, the vivaciously attractive redhead that moves to a new school and quickly finds herself enamored with the mysterious Peter Parker. Before any of you start foaming at the mouth, I'm sure Sony isn't going to have Peter Parker revealing to Mary Jane in the middle of the woods that he's Spiderman, but with the success of the Twilight saga so far, studios are definitely going to give notice to the potential that such a take on a character could exploit.
With that said, we have to consider the fact that this character was created in 1962. 1962! That means that Spiderman, by way of his original story, has already lasted longer than most of us readers have been alive. Myself included. If anyone approached a studio today with a story about a kid that gets bitten by a spider and inherits its genetic powers, that person, at best, would be offered a slot on the ScyFy Channel between syndicated episodes of Battlestar Galactica and Mutant X.
Yep, Spidey has survived the test of time, which is also a catalyst in this potential cluster. Could it be that Sony's feeling the urge to dump out a few more box office hits based on the character name alone before their rights to the franchise are taken from them by the recent purchase of Marvel Comics by Disney? You bet your webbed arm pits they are. Just like making that pit stop after Thanksgiving lunch. You could care less about how it comes out. As long as you're good to indulge again at Granny's house that night.
Call it pride. Call it a need to feel I've added to the world, but if I'm about to make my last stab at creating something with a timeless classic, I'm making something that not only I'll be proud of, but that the fans are going to love as well. So, keep your chairs locked in their upright positions, or don't, and hold on, because we're going to embark on a lengthy and bumpy ride of what could be.
The budget for this film has already been reportedly set at $80 million. That's 10 million more than the original budget for Sam Raimi's Spiderman in 2002, which ended up crossing the $100 million mark due to the unforeseen costs of the effects needed to create Raimi's vision of Spiderman's aerial stunts. Keeping that little tid bit of knowledge way, way in the back of our minds, let's assume that we already know this film will never be made for $80 million and argue the fact that for the turn around the executives will get off of the newly designed franchise in merchandizing alone will support the extra cash needed to create a quality film.
I won't dwell on the age old argument of casting. Instead, I'll throw out a few names for key characters that, while I wouldn't mind seeing them in the respective roles, I wouldn't be devastated and swear off the film if they weren't cast either.
Spiderman: Zac Efron

Yes, its already been rumored. And given the fact that this may carry on into the hands of Disney, the High School Musical star would make perfect sense to play the part. Beyond that, however, there is a certain amount of genius to his acting. Take his role in 17 Again, channeling the mouthy Matthew Perry as a youngster, spouting off insults of inadequate wiener size to the film's own version of Flash Thompson. Pretty boy or not, he's got acting chops as far as I'm concerned. Parker does transform from nerd to respectable model student after the spider bite, by the way.
Mary Jane : Emma Stone
This pick I feel a little more strongly about. As of yet, she hasn't had very many roles, but she's done astonishingly well in what I've seen. She's got the firey attitude. The sultry look...on some occasions. If you're not familiar with her, check her out as Jules in Superbad opposite Jona Hill. Just makes sure your kids are wearing ear muffs.
Norman Osborn: Hugh Laurie
Hugh hasn't done an extensive amount of film work, but his reprising role as the title character of Fox's (and Brian Singer's) House speaks volumes for his ability to act. For that matter, his mannerisms, albeit a little overkill, would go in stride with Norman's better than thou approach to the world.

We'll leave casting at that for now and settle in on costume design. The costume from Raimi's first flick was good, in my opinion. It went down hill from there with the added foam muscle that squished under the fingers of the guy that held the unmasked Spiderman from falling off the train track in Spiderman 2.

Imagine, if you will, that you're a teenage boy with very little money and even less sewing skills. Of course, we have to stay with the original design but perhaps a much more primitive approach than the raised webbing of yesterday's costumes. That's so last decade.

I'd propose slightly more than makeshift suits. A mixture between Alex Ross and Todd Mcfarlance's creations, complete with oversized eyes outlined in black and the webbing under the arms for Spidey and a rubber mask for Green Goblin. Oh, and if that's not enough to get the pitchforks in hand, Peter should make his webshooters. I always thought that demonstrated his genius as a scientist. Believe me, web fluid is not easy to make. And don't ever get it in your eyes. It burns. Again, costume design is almost equally as volatile a subject as casting, so we'll quickly be moving on before any of you have a chance to light the torches and storm the castle.

The story is the real importance of any great film. I'm not going to say it…I'm not going to say it…okay, I'll say it. The Dark Knight was what it was for multiple reasons, but most importantly was the great, dynamic story it told. You have to maintain a good flow throughout the movie, while balancing several arcs that fit together well in the third act if not at the end of the film. As with most superhero flicks of recent, we'll base this first movie as it would be the first of an intertwined trilogy.

Start with some action. We all know how Peter Parker became Spiderman. Use a lesser villain in a chase scene. Maybe Spiderman, talking to himself, sums up the origin story in a comedic way, while dodging debris being thrown at him from the villain. The villain endangers enough citizen to occupy Spidey long enough for an escape and Spidey carries on and ends up at school, which shows us how well he balances the chaos of his life. School life is much the same as it was before the spider bite, but a few girls are starting to take notice of Peter, which causes the already harassing Flash to be even more antagonistic.

Peter and Harry are inseparable friends both in and out of school in the beginning, but Harry's more socially accepted due to his family's money and he starts ditching Peter in order to fit in better. To stay in line with what Marc Webb is apparently wanting to do, Peter can become close friends with Gwen, his associate at Empire State University where he serves his internship, while pinting over Mary Jane. Gwen starts to fall for Peter, who's oblivious of course. Peter does eventually fall hard for Gwen, but that just sets up her death in the second film. Yeah, I said it. This should all take a back seat to the fact, though, that, as Peter Parker, Spiderman learns from Harry that a series of break ins have been occurring at Oscorp at the exact same time that Spideman is facing off against the lesser villains. The villains could be borrowed from the Ultimate series. The Enforcers. Rhino...etc. Spidey confirms his suspicion that his run ins are mere distractions from a bigger crime by swiping...er...borrowing video evidence from the police department. Maybe even have him point out some helpful info to Captain Stacey to start building that relationship.
Life at the Daily Bugle would, of course, be centered around the antics of Jameson. He's always good for a few laughs, but its really not necessary to camp it up they way they've done in the past. Jameson, while making snide remarks, has a soft spot for Peter and uses him whenever he can to cover events unrelated to Spiderman. Or so he thinks. Peter can use those opportunities to help his efforts as Spiderman. We could throw in a couple of Easter eggs here, too. Like Eddie Brock, the guy Peter says is a pretty good guy, but he talks about his dad too much.
I'd like to see Spiderman going on his nightly patrols. Doing a little investigating here and there. Tracking down some bad guys. There was a great couple of pages in one of McFarlane's books where Spidey has a mugger suspended face down between two buildings in an alley way by webbing on his feet and finger tips. Spiderman is perched on the guy's back, getting him to confess to the mugging while belittling the guy with sarcastic remarks. Instead of focusing on how hard it is to find that line of where Peter Parker ends and Spiderman begins, have him actually enjoy the escape that his powers allows him. You know? Let him take a nap in a web over the city or eat a snack while he's hanging upside down.
Back to the plot. I think maybe a good angle would be to treat the reoccurring thefts to both Oscorp and its competitors as a mystery to the audience as well. Don't reveal the Goblin's identity before hand and make Osborn so believable as a victim that, although we know in the end that he is the Green Goblin, we almost start to side with him and wonder if a new direction is being pursued. Limit the Goblin's screen time in the first half of the film and touch on a few supporting characters by having Spiderman deal with them before they take on their super villain personae. This serves as your action sequences and helps to both develop those characters for later use and to build suspense toward the real threat.
I say we leave the masks on. No one should be learning anyone's true identity in the first film, although, as an objective spectator, MJ may have her suspicions about why Peter is continuously running off.

In the end, Spiderman does defeat the Green Goblin and thwarts whatever master plan he had hatched, but the body of the Goblin is never found. See? We don't have to always kill off our villains. Sometimes we need them to come back and play hell with our hero's emotions by killing his girlfriend.

I know I got a little long winded and very opinionated, but I hope that enough articles like this surface between now and the time production starts to raise a few eyebrows and maybe, just maybe, make the big guys think twice.