Wed, September 8, 2010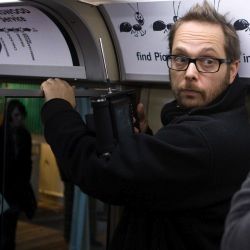 A couple of weeks back surfaced reports Robert Schwentke (whose latest Red opens this fall) was the front-runner for the Ryan Reynolds-starring R.I.P.D. He was also said to be in contention for Wolverine 2, but I think we all know here this sounded like the better route to go.
"TOLDJA" reports it's now a done deal as Schwentke will direct the supernatural/buddy-cop project. Based on the comic by Peter Lenkov, Reynolds will play a deceased cop continuing his line of work in the afterlife as he's partnered up with a gunslinger from the Old West.
Production is being eyed to start towards the end of summer 2011. Reynolds is booked solid from here on out with the currently-lensing comedy The Change Up with Jason Bateman, the action/thriller Safe House with Denzel Washington early next year and his worldwide promotional circuit to pimp Green Lantern.
It's also further proof (like it or not) Reynolds won't be headlining that Deadpool movie Fox keeps talking up.