Sun, September 19, 2010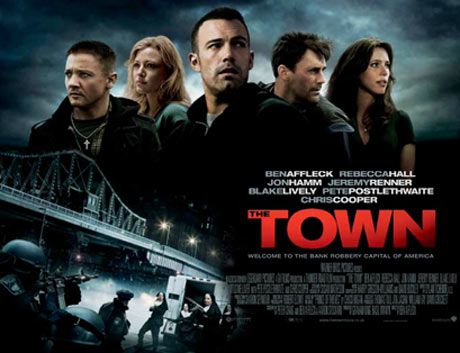 Courtesy of Box Office Mojo:
1. The Town - $23.8 million
2. Easy A - $18.2 million
3. Devil - $12.5 million
4. Resident Evil: Afterlife - $10.1 million
5. Alpha and Omega - $9.2 million
6. Takers - $3 million
7. The American - $2.7 million
8. Inception - $2.015 million
9. The Other Guys - $2 million
10. Machete - $1.7 million
For once, a good weekend at the box office. Ben Affleck's crime thriller The Town easily topped the weekend box office with $23.8 million. With excellent reviews and a solid B+ from Cinemascore, the movie should play well as the fall movie season gets into gear.
Easy A, starring Emma Stone, also had a great first weekend, opening with $18.2 million. Another film with positive reviews and an even better Cinemascore rating than The Town (an A-), the teen comedy should also hold up well in the next few weekends to come.
One the downside, Devil, the monster-in-an-elevator horror film produced by M. Night Shyamalan (whose name actually got the audience booing when I saw the trailer for this a few weeks ago) didn't impress anyone with just $12.5 million. Don't expect this to become a Halloween classic anytime soon.
Last week's champ, Resident Evil: Afterlife, took its expected 62% drop (yikes), falling to fourth place with just $10.1 million. However, that probably won't stop them from making another one.
The weekend's other new release, the animated family film Alpha and Omega (where the hell did this movie come from?), rounds out the top five with $9.2 million.
The usual suspects filled out the rest of the top ten: Inception continues to do well, bringing its total gross up to $285 million. It's doing even better overseas, where it has grossed $468 million. Wow. Will Ferrel also still has plenty to be happy about, seeing The Other Guys remain in the top ten for another week with another $2 million.
Takers and The American continue to do steady business, and Machete seems to be making a quick exit from the top ten, barely beating out Eat Pray Love for the tenth spot this weekend.
Next weekend, we'll have some more family film competition with the release of Legends of the Guardians: The Owls of Ga'Hoole, and we will find out if greed is indeed still good as Wall Street: Money Never Sleeps opens in theaters