Sun, September 9, 2012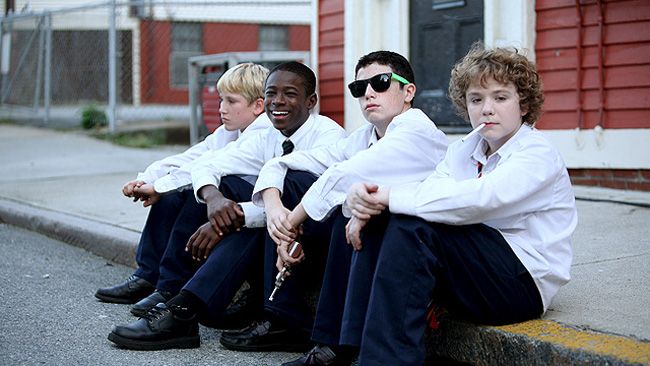 Freestyle Releasing announced today that they have acquired all U.S. rights to FUNERAL KINGS, the charming, critically acclaimed comedy that was written, produced and directed by brothers Kevin McManus and Matthew McManus. The film was executive produced by Andrew van den Houten (''The Woman," "In the Family") and stars Dylan Hartigan ("The Black Donnellys"), Alex Maizus, Jordan Puzzo, and Charles Odei ("The Good Wife"). Michaela McManus ("The Vampire Diaries"), Michael Delaney ("The Other Guys"), and Kevin Corrigan ("Superbad") round out the cast. FUNERAL KINGS debuted as an official selection at this year's SXSW Film Festival and is slated for a fall release.

It's always a good day for a funeral at St. Mark's Middle School in Rhode Island. Andy and Charlie, two altar boys, don't just get to miss class anytime a parishioner kicks the bucket, they cut out early and play hooky as soon as the service is over. Eventually their irreverent personalities will put them in a situation that is too big for them to handle.

The deal for the U.S. rights was negotiated by Freestyle Releasing's Co-President Susan Jackson and Andrew van den Houten, President of Modernciné.

"Kevin and Matthew McManus are talented new filmmakers who bring a fresh humor to the adventures of these ne'er-do-well New England Altar boys. We absolutely love the film and can't wait to bring it to audiences," said Jackson.

"Funeral Kings was an audience and critics hit at SXSW and Fantasia and we are delighted to secure U.S. distribution with Freestyle for this very funny film," said Andrew van den Houten.