Sun, June 6, 2010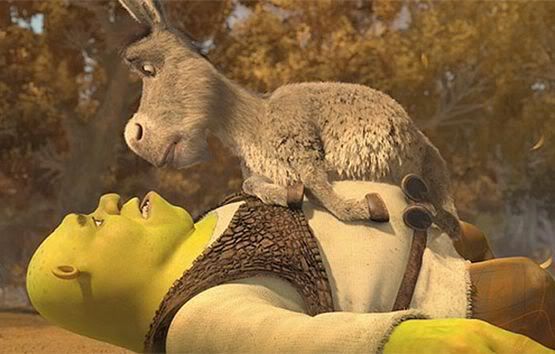 Courtesy of Box Office Mojo:
1. Shrek Forever After - $25.3 million
2. Get Him to the Greek - $17.4 million
3. Killers - $16.1 million
4. Prince of Persia: The Sands of Time - $13.9 million
5. Sex and the City 2 - $12.6 million
6. Marmaduke - $11.3 million
7. Iron Man 2 - $7.7 million
8. Splice - $7.4 million
9. Robin Hood - $5.1 million
10. Letters to Juliet - $3 million
So how many new releases does it take to topple an ogre at the box office? Well, we know the answer isn't four - at least not the four new movies it had to compete with this weekend.
Shrek Forever After retained its box office crown in its third week of release, easily beating out newcomers from seemingly every possible genre with $25.3 million. Despite having a domestic total of $183 million (and another $68 million overseas), attendance for Shrek's final adventure is lagging behind its previous sequels.
In second place was the Jonah Hill-Russell Brand comedy Get Him to the Greek, which opened well with $17.4 million, even if it wasn't the box office smash that The Hangover was on this same weekend last year, but stayed in line with the opening weekend for Forgetting Sarah Marshall, which is where Hill and Brand's Greek characters originated.
Despite not being screened early for critics (and earning a painful 15% Rotten Tomatoes score when it was), Killers managed to finish in a not-bad third place with $16.1 million. Apparently there is still an audience for movies starring Katherine Heigl and Ashton Kutcher out there.
Both new releases from last weekend, Prince of Persia and Sex and the City 2, dealt with big drops this weekend, with Persia dropping 54% and Sex and the City dropping 59%, which doesn't bode well for long runs on either film.
Still, they at least did better than this weekend's other new releases: the barely-advertised (and probably for good reason) Marmaduke came in with a meager $11.3 million and the horror film Splice, which was a big hit at the Sundance Film Festival and got decent reviews, didn't do much at the box office, ending the weekend with just $7.4 million.
Iron Man 2 earned another $7.7 million this weekend, putting its total domestic gross about a weekend away from a $300 million total. Ridley Scott's Robin Hood appears to be sinking out of the top ten, earning $5.1 million, but still not at $100 million total yet. Letters to Juliet rounds out the top 10 with $3 million.
In all, another unimpressive weekend at the box office. Let's hope things get better next week with the release of The A-Team (I can't wait for this movie) and the remake of The Karate Kid - not to mention the return of Buzz and Woody the week after that.
Make sure to check back for Mitch's update when the actuals come in.